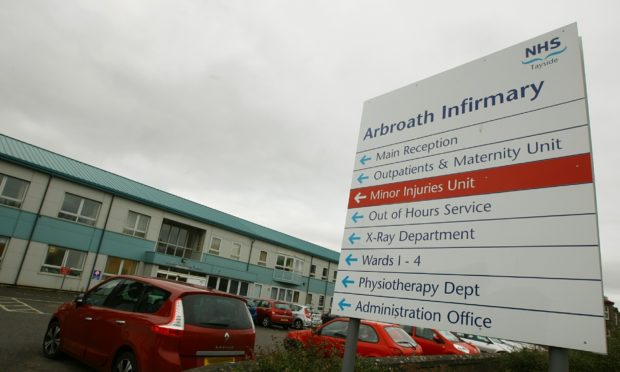 The former dementia ward at Arbroath Infirmary has been transformed into a new Macmillan Day Care Unit.
The unit, providing new community palliative care and day treatment facilities at Arbroath Infirmary, has been made possible through a partnership between Macmillan Cancer Support and NHS Tayside.
The former Inchcape Ward – a 15-bed dementia unit which was closed in 2015, sparking local anger – will provide a day care assessment and treatment facility, allowing people to receive much needed treatment locally.
Two new consultation rooms have been introduced, along with treatment rooms and a patient lounge.
The reception area has also been fully refurbished and a quiet room has been created to provide patients and families with privacy and space.
The garden area will also be made over in the coming weeks.
Non-executive member of NHS Tayside Board Alison Rogers, and Janice Preston, head of Macmillan Services for Scotland, officially opened the unit on Tuesday with a ribbon-cutting ceremony.
They were joined by representatives from the Angus Health and Social Care Partnership and members of local community groups on a tour of the new facilities given by Alasdair Rankin from project architects, Aitken Turnbull.
Mrs Rogers said, "This is an outstanding facility for people living in Arbroath and the surrounding area, as being able to access local services and support when living with cancer and other life-limiting illnesses is essential.
"NHS Tayside is delighted to have worked with Macmillan on this project."
Macmillan has invested over £940,000 in the area recently to enhance palliative care.
Janice Preston said the new unit will make a big difference to people affected by cancer and their families in Arbroath.
She said: "It's thanks to the hard work and dedication of our supporters in the area, who raise so much money for us, that we are able to make such a significant contribution to this important project.
"We are incredibly grateful for their continued support, without it investments like this would not be possible."
The unit will receive its first patients before the end of the month.
The opening of the Macmillan Day Care Unit completes both phases of the building project at Arbroath Infirmary.