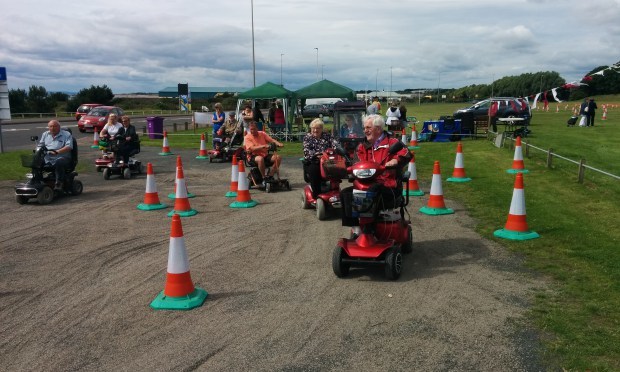 Ready!  Set!  Go!
Thrill-seeking pensioners are gearing up for the return of the Arbroath Mobility Scooter Wacky Races.
The event will be held on Saturday July 22 following the success of last year's inaugural event which saw OAP's whizz around the track at speeds of up to 8mph.
The town's Low Common resembled the Monaco Grand Prix street circuit as drivers pitted their wits against each other.
The event included activities aimed at giving confidence to both novice and advanced mobility scooter users.
Mobility scooter wacky races underway in Arbroath today. The spirit of Dastardly and Muttley is alive and well! pic.twitter.com/yFDXT55sWb

— Graeme Strachan (@C_GStrachan) July 23, 2016
It was organised by the Arbroath COPD Support Group to highlight a scooter's impact on people who feel "trapped" indoors by disability or age.
Organiser Donald Downie said: "Following the great success of 2016, the Arbroath COPD Support Group is holding another Mobility Scooter Training and Powered Wheelchair Fun Day on the Low Common by Tutties Neuk between 11am and 3pm.
"This is a great local event for disabled people and the elderly and is the only one of its kind in Scotland.
"The event is being funded by the local Arbroath COPD Group but is open to any disabled mobility scooter or powered wheelchair user.
"One of the aims is to raise money for COPD."
Mr Downie said the wacky races will have activities aimed at giving confidence to both novice and advanced users with enough going on for a whole day's outing.
Learner driving training given to all users, from beginner to advanced, there will be wacky races to take part in and stalls selling local produce and goods.
Whilst the day is primarily aimed at mobility scooter or powered wheelchair users who may be disabled and/or elderly, there are also events for children to take part in, making it inclusive for the whole family.
Mr Downie said: "Many disabled people are trapped in their houses through their disability.
"In many cases a mobility scooter or powered wheelchair will offer them the freedom and opportunity to again go to the shops, meet with friends or simply to enjoy going out.
"The event involves the whole community.
"The Mobility Scooter and Powered Wheelchair Training Fun Day would not happen without the energy and enthusiasm of the local people who organise it, and a great deal of thanks must go to all those involved in the organisation and execution of the event and to all those local businesses who have given their support.
"You do not have to own a mobility scooter to take part.
"If you are thinking of buying one or are unsure and would like to see if it would be suitable for you then this is your opportunity to try one out under controlled circumstances."
Parking for the disabled and course participants is on the Low Common next to Tutties Neuk.
For more information call 01241 830592 or by email on copddownie@gmail.com