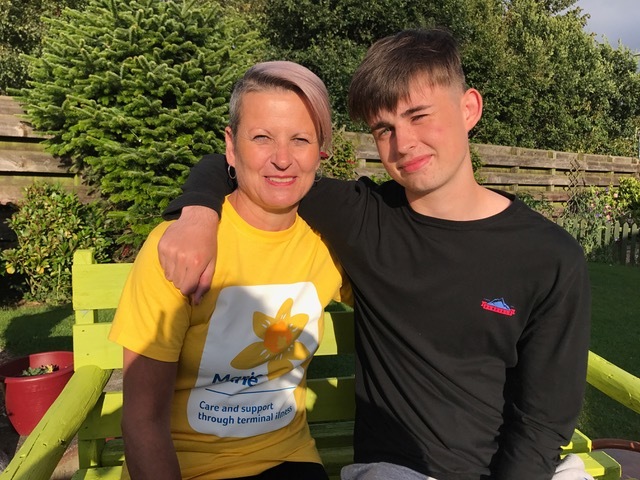 An Angus woman who has battled breast cancer and the teenage son who supported her will share a tandem bicycle in the Dundee Cyclathon next month to mark their journey together.
Jill Neal, from Carnoustie, and son Nathan Black, 19, will join 400 other cyclists on September 10 when they take part in the 26-mile run in aid of Marie Curie, a charity providing free home care to the terminally ill.
Jill first detected a lump in her breast in January 2013 and was diagnosed with cancer in her breast tissue and lymph nodes six months later.
She has since undergone chemotherapy and a mastectomy, as well as two transplants and several procedures to remove tissue from her chest.
Still in constant pain, Jill answered a Courier appeal for two tandem enthusiasts and is determined to raise awareness and as much cash as she can for the charity.
She said: "There are people much worse off than us and I am very grateful that there are Marie Curie nurses in our community supporting families.
"Nathan has always been there for me, through everything, and I think cycling together will be a really nice way for us to help raise awareness about what Marie Curie do and maybe help other people at the same time.
"To be honest, I'm terrified the cancer will come back and although I've come through a few operations and chemo, it never leaves you. I probably am a bit paranoid now and all that has an affect on you and your family. I'm really grateful for all the support Nathan has given me and I hope now we can both look forward to better things."
Petra McMillan, Marie Curie patron and Colin Murray, a partner with Nicholson's Cycles which are donating the tandem for the day, said they were both inspired by Jill's story.
Petra said: "Cancer and terminal illness don't just affect individuals, it's the whole family.
"As mother and son, Jill and Nathan have come through so much together and we very much appreciate them sharing their story and helping us raise awareness about and funds for Marie Curie by taking part in the Dundee Cyclathon."
Beginning and ending at Camperdown Park, the Dundee Cyclathon, organised by Rotary Club of Claverhouse, circumnavigates the city via the Green Circular route.
Since 2001, the event has raised over £250,000 for various local charities. Every penny raised by 2017's event will be spent in the DD postcode area to support Marie Curie's community nursing service.