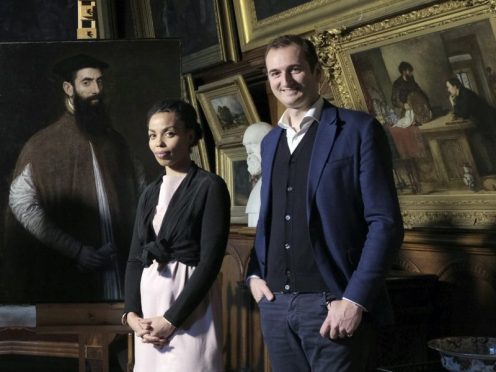 A painting in an Angus collection which was obscured by 400 years of dirt and old varnish could prove to be a lost masterpiece.
One of Britain's top art historians suspects the mysterious painting held within Hospitalfield's collection is the work of a highly-respected 16th century Dutch artist.
Dr Bendor Grosvenor and Emma Dabiri, who present the BBC TV programme Britain's Lost Masterpieces, travelled to Arbroath to investigate what could be a true Old Master.
Dr Grosvenor believes the painting was painted almost 500 years ago by giant of Dutch art Antonis Mor who was court painter to Philip II of Spain.
But with no documentary evidence, it's a hard case to prove.
The identity of the subject of the portrait, an upright, bearded figure, holding a sheaf of documents, still remains a mystery, as does its provenance and how it was acquired in to the collection.
Dr Grosvenor said: "Finding such a potentially extraordinary painting in a place as magical as Hospitalfield would be an immense privilege.
"As a portraitist, Mor rivalled the likes of Titian, and I think it's no exaggeration to say that, if this work proves to be by Mor, this would be one of the finest 16th century portraits on display in Scotland."
Mor was born in Utrecht in 1517 and studied art under Jan van Scorel who established the painting style of the Italian Renaissance in Holland.
His rise to eminence was rapid and his subjects included Mary Tudor, Queen Mary I of England, whom he painted at the time of her marriage to Philip II of Spain.
For twenty years Mor traveled among the Habsburg courts – Augsburg, Lisbon, London, Madrid, Rome – painting portraits that became a virtual hall of fame of the era's rulers.
Director Lucy Byatt said: "With all the work that we are doing for Hospitalfield's future there could not be a better time for Bendor Grosvenor's team of sleuths to have visited Hospitalfield and to be researching in to the background of one of the paintings within the collection that we know least about – in doing so they enlarge upon the extraordinary 19th century history.
"This is so exciting."
Hospitalfield House in Arbroath is one of Scotland's most significant arts and crafts country houses.
Left in trust in 1890 by the artist Patrick Allan Fraser, his vision was to bequeath his extraordinary home, collections and estates to support artists and education in the arts.
The Trust, now chaired by Sir Mark Jones, former director of the V&A in London, has been working on a Future Plan, which will include major capital investment in to the existing grade A-listed historic buildings along with the development of new buildings.
Sir Mark said: "What a tribute to Patrick Allan Fraser, the artist who built Hospitalfield, that a portrait that he acquired for his collection could now, thanks to Bendor Grosvenor, be identified as a work by Antonis Mor."
Dr Grosvenor visited Hospitalfield initially in 2015 and conducted research on subsequent visits and through consultation with other experts which leads him to be able to make the analysis during Wednesday's programme.
The research process has included the restoration of the oil painting which has revealed more of the colour and the careful detailing on the subject's clothing.
It is now hanging in a central position within the extensive collection of mainly Victorian paintings at Hospitalfield House.
The painting will be on show during Heritage Tours on Wednesday October 25, Wednesday November 8 and Wednesday December 6 and Hospitalfield can also host group tours made by appointment.
Britain's Lost Masterpieces will air on Wednesday at 9pm on BBC Four.