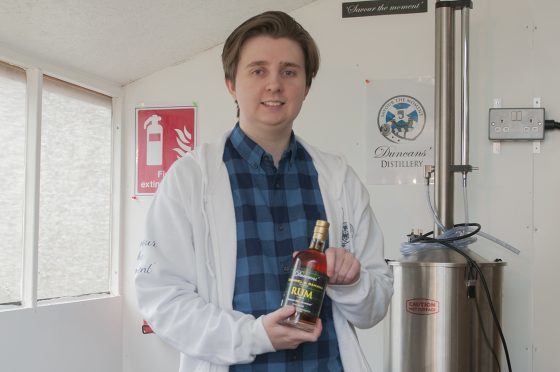 A Carnoustie father and son have launched one of the UK's smallest distilleries — based out of the family garden shed.
Billy and Jory Duncan started Duncan's Distillery three months ago and have already produced more than 150 bottles.
The converted shed, measuring 10ft by 8ft, has been kitted out with everything from fermenters to stills to allow the pair to make flavoured rum and vodka from scratch.
It was projected that the back-garden business would churn out just six bottles a month but the pair have so far produced more than eight times that amount.
Billy admitted it had been a struggle to keep up with demand.
He said: "We are only three months into it but it has been crazy.
"My son's idea to start it came totally out of left field. It was such a surprise. Neither of us really knew much about distilling but we have learnt a lot in a short space of time.
"From the outside, it just looks like a shed but inside it's actually quite smart as it's all painted white and has all the equipment.
"We have been told we could be the smallest distillery in the UK."
The honour comes with its own challenges, he added.
"Because to work in such a small space it means we need to wash every piece of equipment as soon as we have used it," said Billy.
"That can be quite time-consuming."
The distillery produces three flavours of rum — caramel banana, rhubarb and toffee apple — as well as a white chocolate-flavoured vodka.
Each bottle is designed with the Duncan family tartan and crest motto "Savour the Moment".
Billy, who works for an oil company in Aberdeen, said he decided to go along with Jory's idea to help his son pursue a career in distilling.
He added: "Jory wants to do this full time within the next year and I want to do this for his sake.
"He went to college to study sociology but it just wasn't for him. At 20 years old he must be one of the youngest to own a distillery.
"We haven't done much marketing and we don't have a website yet but we hope to do all this stuff when we get the chance.
"It has been trial and error mostly but we are really happy with the flavours we have come up with."
For more information, visit the pair's Facebook page at https://www.facebook.com/duncansdistillery/