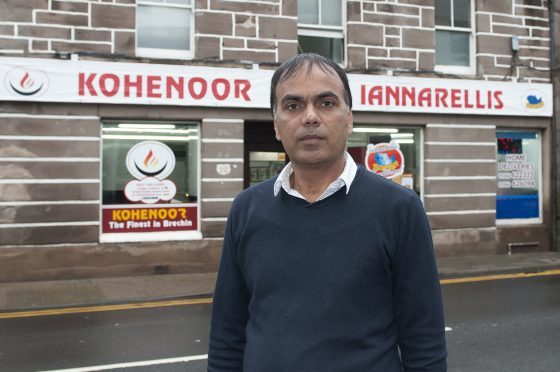 Local planning chiefs are to seek a meeting with senior prosecutors in a bid to learn lessons from a failed planning enforcement case which was thrown out by the courts.
The Crown Office confirmed in August that charges were being dropped in relation to alleged planning act breaches by the owners of the Kohe Noor takeaway in Brechin's St David Street.
The venue was served with an enforcement notice after an illuminated sign was put on the C-listed building, and mortar on the facade was painted white.
The move prompted months of wrangling and a subsequent report to the procurator fiscal.
Some members of the area's development standards committee said they believed the council was guilty of "using a sledgehammer to crack a nut" in the way it pursued the case against the building's landlord.
The Crown Office said it dropped the criminal proceedings "following a review of the available evidence and full consideration of the circumstances."
Takeaway operator Bashir Hussain criticised the council for its treatment of the business, saying he had invested £70,000 in it since taking over the shop in 2003.
"If we weren't here I doubt if the shop would be occupied," he said.
"I was dealing with the council and trying to sort it out, but then out of the blue the court thing came."
Planning officials have now said they intend to speak to the Crown Office and Procurator Fiscal Service to see what lessons may be learned for future cases.
Development standards committee councillors were told: "The Principal Solicitor has now discussed this case with the COPFS.
"COPFS advised that the case was abandoned as they considered that there was insufficient evidence to link the accused with the offence, and also a lack of corroboration as regards the offence.
"The Principal Solicitor has requested a meeting with COFPS in order to identify any areas of weakness in our report, and to discuss how these aspects can be remedied for any future submissions."