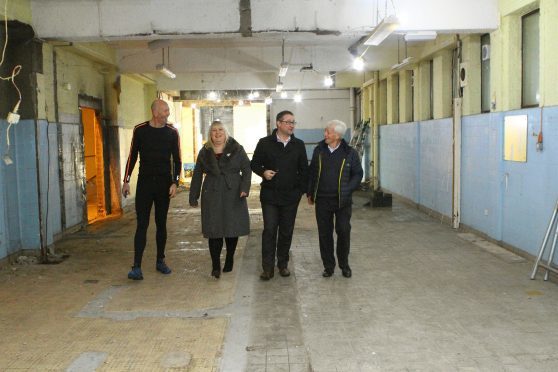 A slice of Angus cinema history is to be brought back to life.
Seat ends from the original Angus Playhouse in Montrose will be refurbished as part of a £2.5 million cinema project.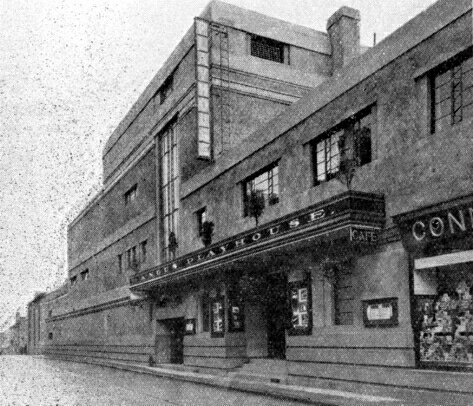 The 10 art deco cast iron cinema seat ends and mid-sections from the original cinema were found in a garden and the Montrose Playhouse team wants to restore them as part of the community art centre and cinema project.
Chairman David Paton said: "A couple of weeks ago a local gentleman called Steven Maddock contacted us about some seat ends he had sitting in his garden from the old Angus Playhouse on John Street and wondered if we wanted them.
"What we found was well beyond what we had thought and we picked up 10 beautiful art deco cast iron cinema seat ends and mid sections – some still with elements of the maroon velvet seat covers on the arms.
"It was a fantastic piece of nostalgia and local history for us connecting back to the old Playhouse.
"All Mr Maddock knew was that his father had them sitting in the garden for years and when they heard about our project, thought we could do something with them.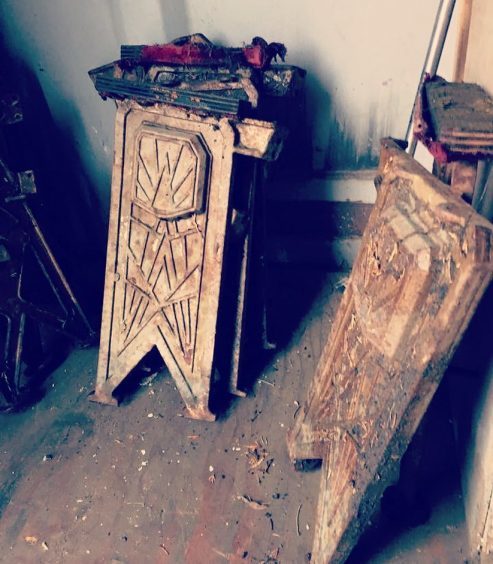 "We can only assume Mr Maddock's father worked there or perhaps was part of the team who stripped out the building when it closed in the 1977. Either way, we are glad he kept them.
"Our project has always been based on the community and now with the local history of the Playhouse seat ends and also the former swimming pool memorabilia we have kept, we feel that the new Playhouse will not just be a place to share new experiences but a place revisit old ones."
The aim of the project is to bring back a cinema to Montrose and create a cultural arts hub for the town and surrounding area.
The swimming pool was sold to the Angus Playhouse Project in 2017 for £1 and Mr Paton has given himself a goal of opening by December 2019.
Upcoming events to raise money for the project include a car boot sale in the car park of the former swimming pool on Saturday February 17 from 10am-2pm.
After the event the car park will open up to Moonlight Movie Club where classic cult films Ghostbusters will be shown at 6pm and Jaws at 8pm.
M'Oscars on March 10 will see the project's biggest fundraiser to date return for the second time at Montrose Town Hall with tickets and table bookings from events@montroseplayhouse.co.uk.
The event will include music from Peyton Place, comedy from Maddogs, Tapas style food from the Hillside Hotel along with games, magicians, raffles, auction, paparazzi and some very familiar faces.
Bugsy Malone brought the curtain down on a piece of history
The original Playhouse opened in 1932 as a sister cinema to the Playhouse Elgin.
Both were designed by AG MacDonald and shared several decorative similarities, including the wood panelling below the dado line in the foyer and auditorium as well as the procenium arch and small stepped stage.
MacDonald's design was impressive enough to be featured as an excellent example of its type in the 1936 publication 'Modern Cinemas', produced by the Architectural Press.
Although built for the Angus Playhouse company, the cinema was run by Caledonian Associated Cinemas.
The original projection equipment was Simplex projectors and RCA sound, later replaced by BTH throughout when it was taken over by JB Milne Theatres around 1958.
By 1971, the cinema had still never been refurbished, and almost everything – seats, lighting and decoration was intact (if somewhat run down).
Seating then was 308 in balcony and 729 in the stalls.
The Playhouse closed on August 27, 1977, showing 'Bugsy Malone' to a busy final audience of over 600.
The building sat empty until 1991, when it was demolished after a fire.
A development of housing is now built on the site in John Street and nothing now remains of the old Angus Playhouse.