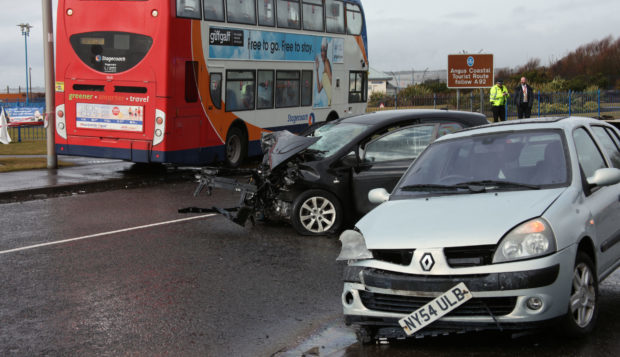 Emergency services are in attendance at a road accident involving a bus and two cars in Arbroath this morning.
The collisions occurred on the Dundee Road near to its junction with Queen's Drive at around 8.40am.
The vehicles involved – a double decker Stagecoach bus, a black Kia Rio and a grey Renault Clio – were all significantly damaged.
A Police Scotland spokesman said: "The accident occurred near to the junction to (soft play centre) Jumping Joey's.
"A man, who was in one of the cars, was taken to hospital with fairly minor injuries, but none of the bus passengers suffered any serious injuries and they did not require hospital treatment."
Scottish Fire and Rescue also attended the incident but were not required to take action.
A spokesman said: "We received a call from police at 8.44am. When we arrived at the scene the police and ambulance were already in attendance and there were no people trapped in their vehicles."
Several police vehicles were in attendance and the road remained closed while a clean-up operation was underway.
The road re-opened at 10.15am.
A spokeswoman for Stagecoach said: "At around 8.40am, a car collided with one of our vehicles travelling from Arbroath to Perth on service X8 on Dundee Road, Arbroath.
"We are thankful that none of our passengers were injured.
"As a result though we understand the car driver was taken to hospital and our driver suffered minor injuries. We wish both a speedy recovery.
"We are assisting police with their inquiries into the incident as well as carrying out our own investigation into the full circumstances."