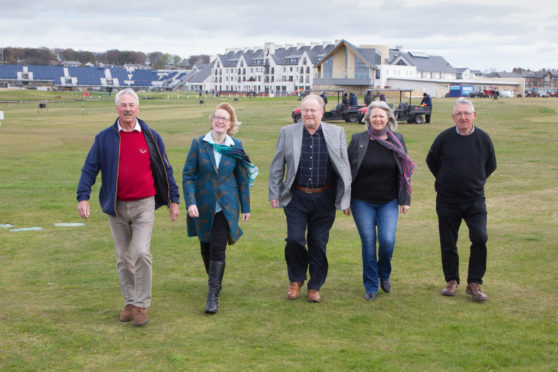 A major festival to mark the return of the Open Championship to Angus is being planned in Carnoustie this summer.
The free festival at Carnoustie House Grounds is intended as a way for local people to celebrate the return of the prestigious golf tournament.
Running from 10am to 10.30pm on July 21, the Carnoustie Community Development Trust event will feature live music, a farmer's market, a kids zone, fitness activities and a beauty zone.
Speaking on behalf of the Trust, board member Suzi Caesar said: "It's a family-friendly party to celebrate the fact the Open has returned to the town. It will be something special for local people to share with visitors."
A planning a farmer's market will feature 16 stalls. Local traders are organising different zones, such as a beauty zone.
A fitness zone, organised by Caledonia Fitness, will include a children's assault course and demonstrations.
The kids zone, situated around the play park, will have messy fun, face painting and storytelling.
The main arena will feature dancing demonstrations and live music, including a chance for local people to perform on an open mic.
Carnoustie Community Development Trust – which has been supported with £40,000 of funding from Angus Council and Carnoustie Golf Links – is planning a series of initiatives in the run up to the Open.
Starting this week, a weekly one-minute video will showcase an individual from the town on a new website called Hello Carnoustie.
Suzi said the project, in the vein of the popular Humans of New York project, would be a way for people to sing the town's praises to a wider audience.
"The films are a way for people to feel proud about the town and showcase what they love beyond golf," she added.
The 10 videos, filmed by Dundee-based Dylan Drummond, feature community groups, business owners and a local musician.
The trust is planning to distribute more than 30,000 maps and guides to Carnoustie when visitors descend on the Angus town.
Maps, which will include a list of events planned for that week, will be handed to people arriving at Carnoustie links by a team of volunteers in the hope it will encourage them to explore the town.
Printed guides featuring every business in the town will be available at the course and at hotels, bars and restaurants as well as online.