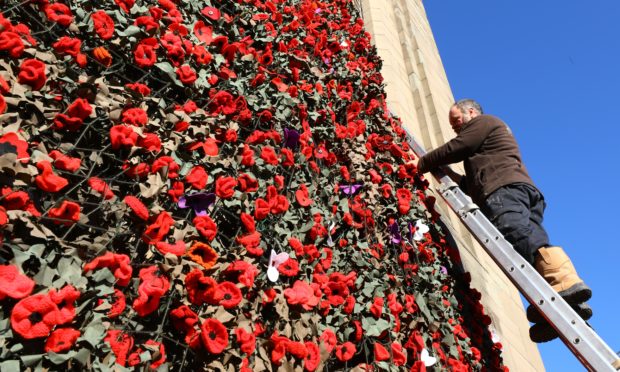 An Angus minister has been overwhelmed with the support a remembrance project has received which has culminated in a stunning "weeping waterfall" poppy installation.
The feature cascades down the front of St Margaret's church in Forfar, ending a year of poppy-making by the whole community.
The Rev Maggie Hunt said they set out to make 1,500 poppies with over 3,500 knitted and felt poppies now attached to camouflage nets.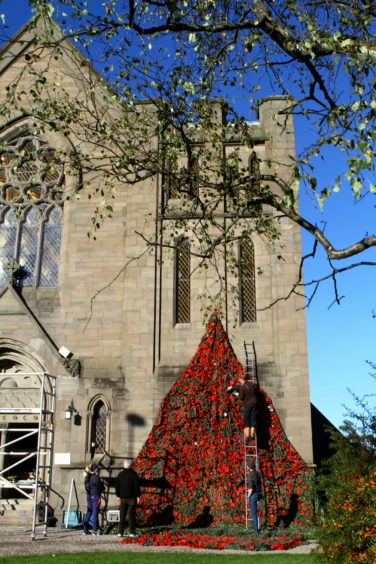 She said: "We started knitting poppies this time last year. It's been a long project.
"What has been overwhelming is the people of Forfar who have no connection with the church have taken it on board.
"They met with us at Tesco and at the Royal British Legion in Forfar where they made poppies, told stories and took time to reflect on the war which was supposed to end all wars, which it didn't.
"We have been attaching the poppies to remember those from that war to nets provided by those currently serving with the Royal Army Medical Corps in Dundee and the Royal Scots Dragoon Guards at Leuchars."
Remembrance postcards will be available for anyone visiting the church display over the next week.
It is also hoped 436 poppies – one for every man from Forfarshire named on the Balmashanner War Memorial – will create another poignant feature on the grassed area at the front of the church.