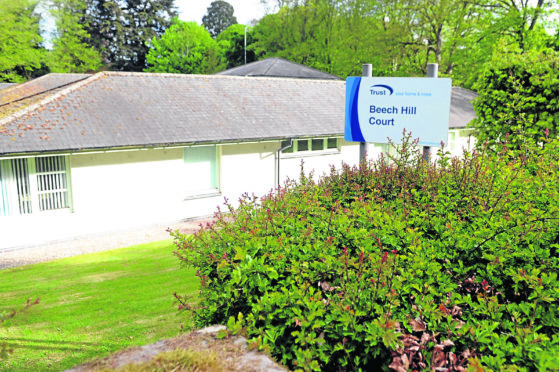 Fears have been raised elderly and infirm residents at an Angus sheltered housing complex will be "forced out" of their homes following the withdrawal of a 24-hour concierge service.
It has been claimed plans for the removal of the round-the clock staff presence at Beech Hill Court in Forfar has left vulnerable residents feeling anxious about their security and care.
Angus Health and Social Care Partnership informed residents the concierge service will cease and the meal service will also be withdrawn.
A relative of one resident, who did not wish to be named, claimed the changes will force residents out of the 29-flat complex and into care homes due to safety concerns.
He said his 82-year-old mother is concerned about the loss of services.
"At present there is 24/7 staff presence that provides various assistance and a 'body' during the night that makes residents feel secure."
"They told us last week they were withdrawing the concierge service and the meal service at the end of March.
"Residents are having to organise something themselves, there is no 'Plan B'. A lot of residents are worried about the fact nobody will be there overnight.
"My mother is getting more and more anxious. She is clinging on to her independence and doesn't want to go into a care home which seems to be Angus Council's only answer."
Trust Housing Association owns the building and is the landlord and Angus Health and Social Care Partnership provide the concierge on site staff.
An AHSCP spokesman said: "Trust Housing notified AHSCP they were not renewing the contract with Angus Council at Beech Hill Court and Kirkriggs Court in Forfar.
"Meetings were held last year with tenants, families and staff who told us the concierge service did not meet the needs of tenants.
"At Beech Hill Court, AHSCP looked at a number of options and, whilst housing with care would have been the preferred option, this was not feasible.
"All tenants will be visited by staff to provide a review of their support packages and to discuss the options and adjustments required to meet individual need.
"Anyone requiring meal provision will be assessed for community meals."
Trust Housing Association confirmed it owns the development and the 24/7 concierge service is provided by Angus Council.
A spokeswoman said: "The council, Trust and residents do not feel this service meets their needs.
"Trust provided alternative options to Angus Council however the council decided not to progress this.
"We are very aware any type of change is difficult however Trust and the council will work with residents to support them and discuss their options.
"The final decision on the future of this development will be made by the Trust Board and members will be made fully aware of the views of residents as is our standard practice when considering any potential service changes. "