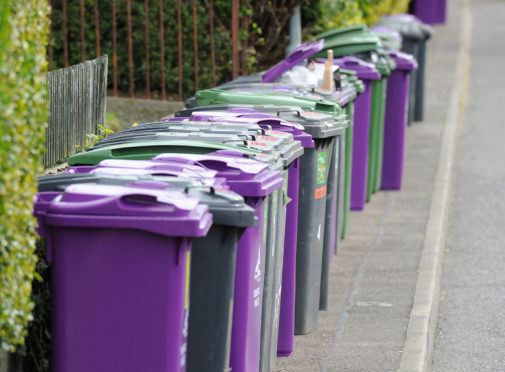 Angus binmen have taken a step closer to strike action over cost cutting changes to shift patterns.
A bid by Angus Council chiefs to deliver an annual six-figure saving to the cash-strapped local authority, led to proposals for refuse trucks to be on the roads until 10pm.
Staff branded the plans as dangerous and disruptive, arguing employees could be put at risk if they are expected to empty bins during winter months when the roads and pavements will be untreated, especially early in the morning and late at night when it will be dark.
Unite the union balloted members over the changes and the votes have been counted but senior figures at the union have failed to respond to numerous calls to clarify the result.
One insider has claimed that the vote "has gone very much our way" in favour of a strike, but added: "This is just the next step in the process, and there is a lot to do legally before a strike goes ahead."
Leader of Angus Council David Fairweather said: "Contingency plans are already in place in the event of industrial action being taken by refuse collectors.
"I do not envisage any residents in Angus encountering any issues if a strike does go ahead. As far as I am concerned, it is very much a case of business as usual at Angus Council."
A spokesperson for Angus Council said: "We are aware of the outcome of a consultative ballot carried out by Unite and that their next step is to conduct a full postal Electoral Reform Services ballot.
"Our officers will be meeting with Unite next week as part of continuing discussions."
The radical changes first emerged in late 2017 and changes scheduled for introduction on April 1 will see waste operatives move from a current 7am to 3pm shift to two shifts operating from 6am to 2pm and 2-10pm.
As part of the proposals, the size of the council's vehicle fleet would also be reduced with council mandarins projecting a £160,000 saving.
Unite shop steward Les Scott previously said: "These guys don't want to do what they are doing, but they have no more avenues to go down.
"This is not about a pay rise, it is not about money – it is about guys who have families and who have real concerns about issues such as work/life balance and health and safety.
"Every one of the guys, union or non-union, doesn't want to do this."