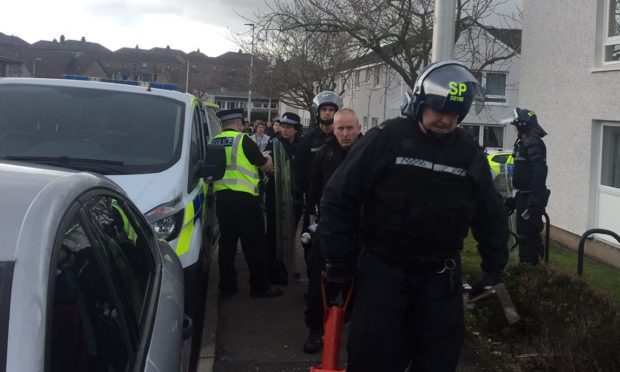 Police in riot gear were involved in a near three-hour stand-off at an Angus flat yesterday.
Up to 11 police cars descended on Restenneth Drive in Forfar during a tense drama that saw the property locked down for much of the afternoon.
Residents watched in amazement as a specialist dog unit and officers carrying shields took up position in the normally quiet residential street at around 1pm.
One witness claimed pepper spray may have been used to help control the situation.
Two men were eventually arrested shortly before 4pm.
Police Scotland confirmed officers had initially gone to the property near the junction with Pitreuchie Place to arrest a man on a warrant issued earlier in the day.
Matters escalated, however, and neighbours said they had never seen anything like the scenes they witnessed yesterday.
Rebekah Ramsay, 27, who lives in Restenneth Drive, said she had seen the police in riot gear when she returned from work.
"There were 11 police cars and police officers in riot gear," she said.
"I have never seen anything like this here."
Fellow resident Sheila Hollinshead, 74, added: "I have lived here for 39 years and there has never been so many police vehicles or officers.
"There's never been anything like this before.
"It's normally quiet around here."
Another onlooker said he could not believe his eyes as he returned home mid-afternoon.
"I couldn't get over how many police vehicles were in Restenneth Drive," he said.
"They had a riot van, the dogs, shields, the lot.
"Everybody was out watching."
Inspector Jamie Allen of Police Scotland said specialist officers had been involved in bringing the incident to a safe conclusion.
"When we arrived there were persons within who did not want to come out," he said.
"We had specialist officers to facilitate the safe arrest of the males."
"I can confirm two persons have been arrested in relation to this incident."