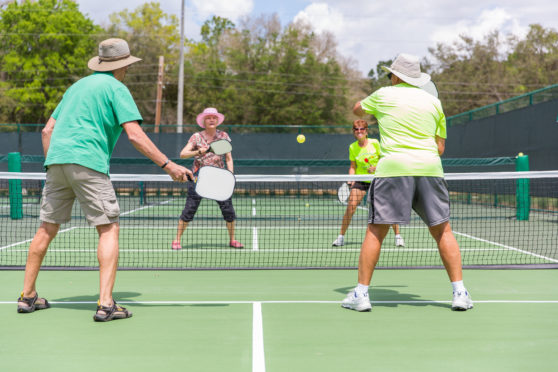 A sport named after a dog, with a 'kitchen' in the middle of the playing field, is coming to Tayside.
Pickleball is a mix between tennis, racquetball and ping pong and has been described as one of the fastest growing sports in the world.
It is a central net, rebound game played with a ball and paddle and was invented in the USA more than 50 years ago by a family who named it after their dog Pickles.
In the US, organised competitions at local, state and national levels have emerged.
Additionally, several countries around the world have started their own clubs and are engaged in building their national associations.
Free drop-in sessions are now being held at Forfar Indoor Sports in June during which experienced players from Pickleball Scotland will be on hand to coach.
Mike Ferguson, Forfar Indoor Sports managing director said: "Its popularity is down to the sport being ideally suited for all ages, families and keen sports people alike.
"Depending on the popularity we are hoping to start a Forfar Pickleball Club with leagues played during the day and evenings to accommodate as many players as possible."
Players use special paddles and a wiffle ball, and games take place on tennis courts with specific pickleball lines.
Nets and court sizes are smaller than their tennis counterparts, and the most common game is doubles, although singles is also an option.
During a pickleball match, you've likely heard someone shout: "Stay out of the kitchen!"
The kitchen is the small area of the pickleball court that's located seven feet in front of the net.
No volleying is permitted within the kitchen.
This rule prevents players from executing smashes from a position within the zone.
A spokesman for the International Federation of Pickleball said: "The sport of pickleball was invented in the summer of 1965 by Joel Pritchard, Bill Bell and Barney McCallum of Bainbridge Island, Washington, USA.
"In 2005, the United States Pickleball Association (USAPA) became a non-profit corporation with a mission to perpetuate the growth and advancement of pickleball on a national level.
"The first official rulebook of the USAPA was adopted by the USAPA shortly after its incorporation."
The first free drop-in sessions in Forfar are being held on June 4 and 6 from 7pm to 9pm.