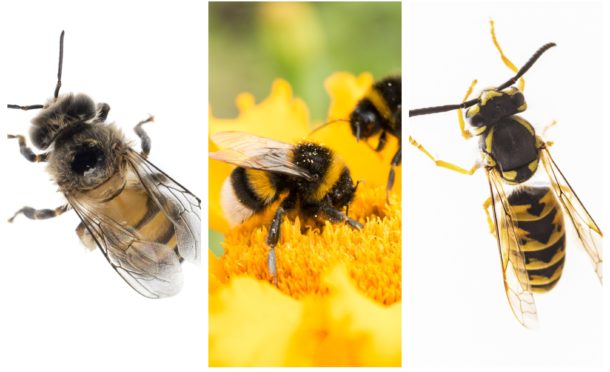 A vet is urging the public to get to know their bees after being inundated with calls asking him to rescue swarms from their gardens.
Part-time beekeeper Alistair Crozier saved a swarm of honey bees from an Arbroath garden near Keptie Pond earlier this month after a woman became alarmed by thousands of the insects setting up home in her hedge.
Alistair, whose day job is as a large animal vet for the Parkside Veterinary Group, voluntarily removes swarm of bees before they have a chance to establish themselves in gardens, chimneys or roof spaces and have to be destroyed.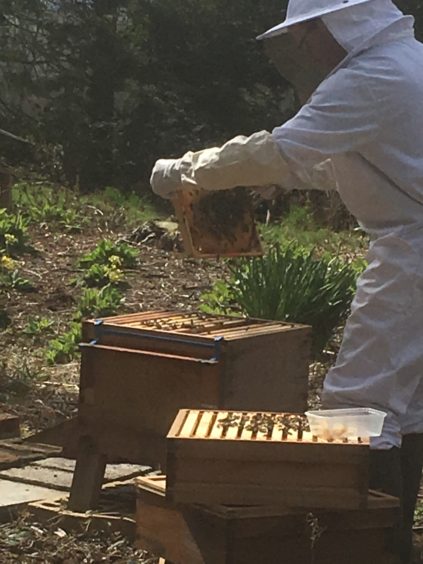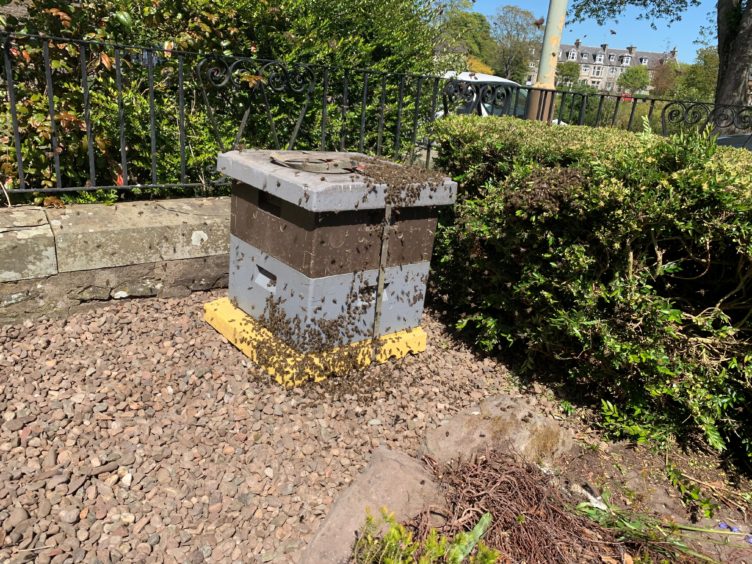 Alistair placed a temporary hive next to the Arbroath swarm for a day before taking the bees home to an empty hive among the nine others he keeps at his Kingennie small holding.
Too many members of the public – besieged by wasps and bumblebees setting up home in their gardens – are contacting him requesting a similar rescue.
He said: "I get the impression that some people are trying it on. They know exterminating will cost them money. Other people are genuinely confused. Some bumblebees, when they're slim and small for example, can look a lot like honey bees. "
He said a swarm – which happens when a queen leaves a mature hive – will involve between 10,000 to 20,000 insects, creating a mass "about the size of a rugby ball."
"People tell me they've got a swarm in their bird box. Well, I know they do not; not unless they're keeping a bird box for an eagle."
He said members of the public should not be concerned about bumble bees. "They won't worry you if you don't worry them and they hibernate in the winter. People are lucky to have them."
The East of Scotland Beekeepers' Association volunteer said the bees he had rescued from the Arbroath garden had adapted well to their new home.
"They are looking good. They seem to be settled and happy. They are bringing in nectar and pollen from the oil see rape, which they love. They are all yellow with it."
A Parkside Veterinary Group spokesperson said: "Alistair, one of our large animal vets, made a beeline to Arbroath to collect a swarm of bees from a beautiful garden overlooking Keptie Pond.
"A huge well done to Alistair for helping these lovely creatures."