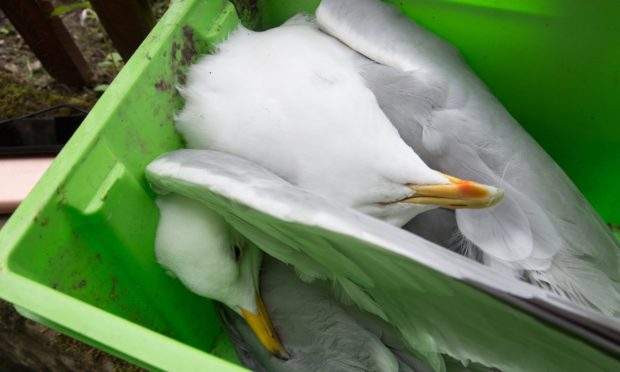 Animal rights activists fear gulls have been targeted and killed by hit and run drivers in Tayside.
Animal rescue centre volunteer Aidan Ritchie was speaking after he removed the corpses of two birds, which were struck and killed in Leonard Street in Arbroath earlier this month.
Mr Ritchie, who transports injured animals from Angus to The New Arc rescue centre in Ellon, took away the bodies after receiving a call from a distressed friend about "revving engines" shortly before the dead gulls were found.
He said he was finding an increasing number of injured birds in his role, including in Arbroath and Dundee.
He said: "I love seagulls and it's really distressing how people treat them. Nobody sees their nice side when they are being goofy and playing around.
"I understand some people can find seagulls annoying. They can be noisy, messy, they poop on cars and they always seem to nest in the most inconvenient places. But that doesn't mean humans have the right to kill them."
Mr Ritchie said the problems were worse in midsummer, when local authorities cannot disturb nesting gulls.
He added: "I've seen an increase in hatred towards the birds. People say openly they will hit them if they can, especially now there are chicks and they are nesting in places where people don't want them."
Concerned Arbroath resident Courtney Easton said she had similar fears in the wake of the recent deaths.
The student said: "People are directly going out of their way to kill them. It's horrible, disgusting and just pathetic. We live next to a beach, a harbour and the cliffs, what else is there to expect? Arbroath is a fishing town, there are going to be seagulls."
She said the spread of rubbish was to blame for making the seagulls more aggressive.
"The only way to stop is to clean up all the rubbish and all the food, stop littering and stop feeding them," she added.
Angus Council has been battling a rising tide of complaints against menacing gulls.
Figures revealed in a Freedom of Information request shown a surge in the number of potential attacks taking place across the county, from 325 in 2016-17 to 451 in 2018-19.
A council spokesman said its free seasonal gull egg and nest removal service was not available once eggs have hatched and gulls start swooping to protect their chicks from early July.
Anyone seeking the removal of gull eggs and nests from their property after this date should contact a reputable private pest control contractor, he added.