Retailers and councillors clashed in Forfar on Thursday afternoon as a "noisy protest" spilled over into heated scenes in the Angus Council chamber.
Around 20 campaigners, who want to scrap the controversial charges to park in town centre car parks, sounded megaphones, whistles and a siren outside Town and County Hall, leading to complaints from hard of hearing councillors.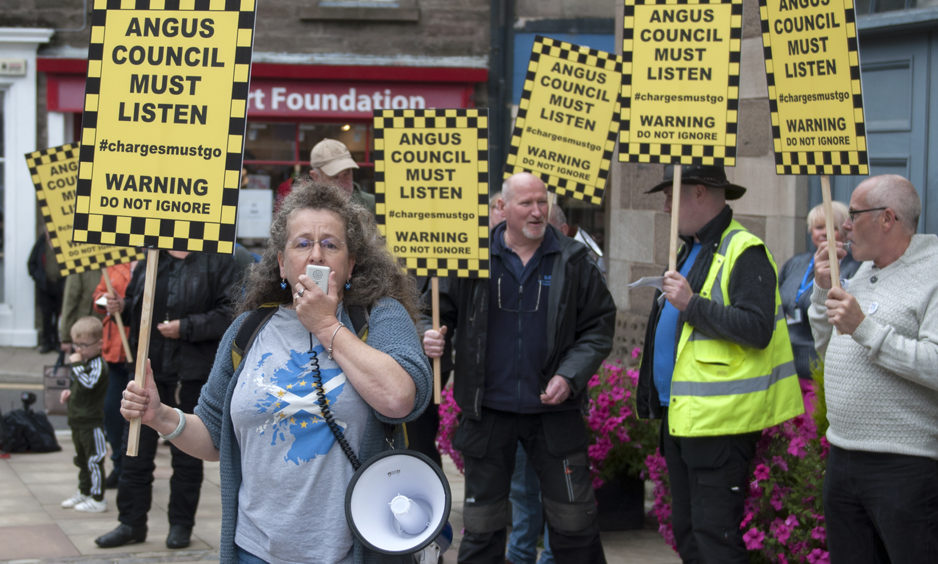 Margaret Robertson, member of Angus Business and Retailers Association (ABRA), made a speech at the start of the meeting.
She accused the administration of bringing an "economic disaster to the small town centres of Angus."
She told councillors they weren't listening to local people.
"I have never seen such a dysfunctional bunch of people in all my life," she added.
Provost Ronnie Proctor had earlier told the ABRA members to hide a banner they unfurled an in attempt to illustrate their argument.
Angus chief executive Margo Williamson intervened midway through the "heated item", calling on elected members to respect each other and the Provost as the discussion became increasingly ill-tempered.
Arbroath independent councillor Lois Speed challenged the demonstrators to explain how scrapping the charges would help tackle climate change, pay for services, or help those experiencing poverty.
She said: "What would people in poverty think of those who are doing reasonably well making such a noise and racket?"
But Carnoustie councillor Brian Boyd, also independent, supported the campaigners, arguing the parking charges had led to job losses. He said these had taken an estimated £1.6 million out of the Angus economy.
"The level of democracy in this chamber is disgraceful," he said.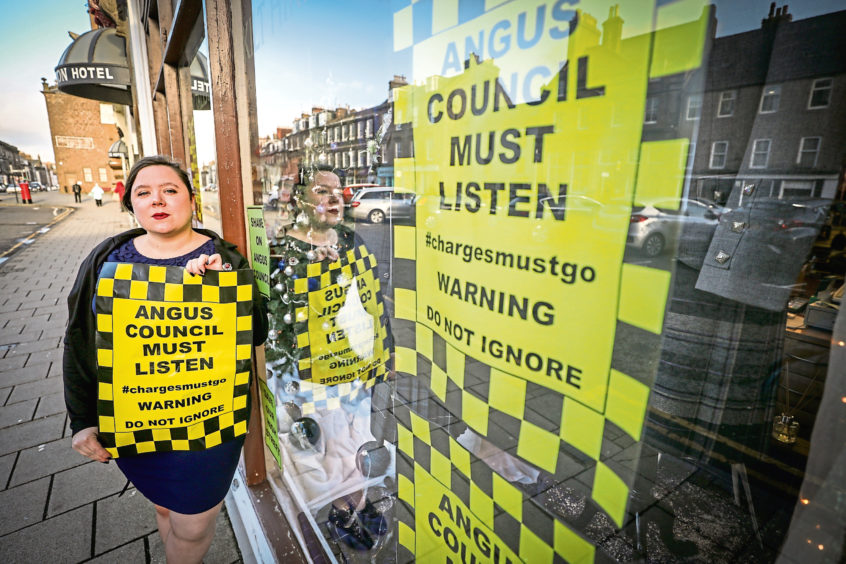 Bruce Robertson of ABRA, who attempted to unfurl the group's banner, denied they were deliberately obstructing the democratic process with their "noisy protest".
He said: "We are here because we have got to be here.
"If we want our town centres to have a future then we have got to stand up and be counted. What is more democratic than that?
"They won't come around to our businesses so we have to come to their place of work and make our message loud and clear."
VIDEO: Large convoy arrives at Angus Council blasting car horns in ear-splitting parking charges protest
Critics of the charges say they have led to reduced footfall in town centres across Angus, compounding the challenges faced by struggling town centres.
But the council administration maintains the "unprecedented financial pressures" faced by the local authority meant it could no longer afford to provide free parking.
Forfar baker Chris Twyman, whose house overlooks the Myre car park near Town and County Hall, said the charges had affected the once "thriving" town centre.
"A silent protest might have been better than trying to make such a lot of noise about it," he added.