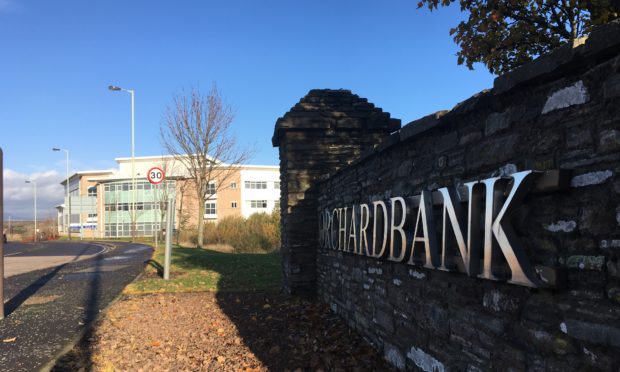 Plans to grow a multi-million pound business park next to the A90 are under threat after a study showed the site is at risk of serious flooding.
Angus Council, in partnership with the Muir Group, is developing land next to its own headquarters in Forfar at Orchardbank, marketing it as a "high quality, integrated business and industrial development."
A new study, put out to public consultation this month, showed parts of the site under water in a "once in 200 years flooding event", a risk substantial enough to affect the planning process.
Council bosses still hope the Orchardbank Business Park will prove to be a major boon for region's economy, taking advantage of the site's strategic location next to the main thoroughfare between Dundee and Aberdeen.
However, the first projects slated for the development have been subject to delay.
Saltire Business Park's application for 16 "starter business units" is still awaiting a decision after environmental body SEPA objected, citing "a lack of information related to flood risk."
Alan Esson, managing director of the company, said they had not been aware of the flooding risk when his company had submitted their planning application in January.
He said: "We're working with the council on this now. All we've said is great, we still want to do a development in Forfar. Find us a site that doesn't have an issue and we'll get on with it."
Engineers working on flood control measures in Forfar presented the findings of a study to the public in the town on September 10.
They presented a map showing surface water at a depth of a few centimetres running down from the hills and surrounding the town, before pooling in "hotspots" with a risk of flooding at potential depths of up to one and a half metres.
An Angus Council spokesman said flood risk had been identified and accounted for at the time Orchardbank Business Park was developed.
He said: "As a part of the Local Flood Risk Management Plan, Forfar has been subject to a flood protection study to establish flood risk and any actions that would reduce that risk.
"This study confirms that areas on Orchardbank Business Park are at flood risk and that this must be taken into account in plot development.
"Accordingly, as plots are developed, the flood risk for each has been reviewed as part of the planning approval.
"An ongoing flood risk study in support of a current application to develop starter business units is an example of this."
A spokesman for multi-national garages firm EG Group, which already has planning permission for a garage, petrol station, shops and an HGV stop on the site, said the flooding concerns would not delay its own development with construction work scheduled to start next year.
However, one local businessman, who asked not to be named, said: "The council are trying to sweep the fact the land has this issue under the carpet."