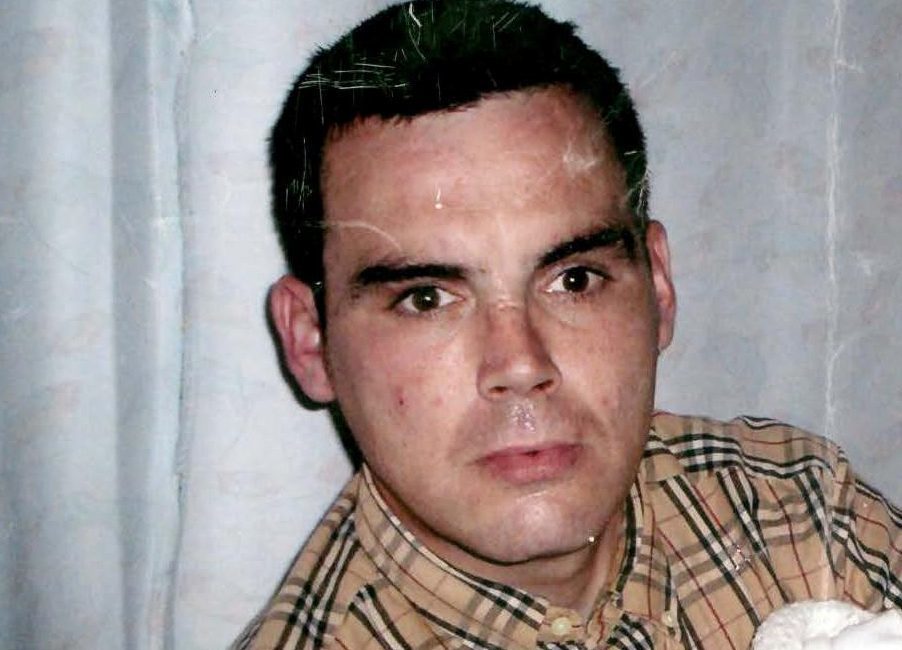 A court was shown pictures of machetes in the home of a man accused of murdering Darren Adie in Kirkcaldy.
On the third day of the trial of Gordon Coventry, 52, at the High Court in Dunfermline, pictures were shown to the jury while Coventry's friend Paul Agnew was giving evidence.
A knife could be seen in two pictures taken inside the home of the accused. One was on the floor and another was against a wall.
Advocate depute Niven Smith, for the prosecution, then asked Mr Agnew, 43, about two machetes lying on the carpet in another photograph.
"I think one of them is mine, actually," said Mr Angew, of Dysart.
He said the machetes were "ornaments", adding: "There's not really any sinister aspect".
The witness said he met Coventry at roughly 8.30pm on the day Mr Adie was found dead in the Gallatown area of Kirkcaldy.
He said he went to Coventry's home in Overton Mains and "saw a lot of police on the way up."
Phone records analysed by police showed that Coventry had phoned Mr Agnew's mobile at 7.55pm that day and the call lasted three minutes and 58 seconds.
Mr Agnew said both of them had then gone back to his house in Dysart.
"I had a bag of weed in my pocket," he said.
"I didn't feel comfortable smoking that with police everywhere."
An earlier witness said she had seen Mr Agnew and the accused walking in Dysart on the same night, and that the former was not walking his dog at the time.
Mr Smith asked Mr Agnew if Coventry was carrying a bag and what was inside.
"It would be the beers," said Mr Agnew.
Asked if anything happened on the walk, he replied: "Nothing happened on the walk except the walk."
Coventry stands accused of killing Mr Adie by striking him repeatedly on the body with a knife or similar implement in Spey Avenue on May 28 last year.
Coventry denies murder and has lodged a special defence claiming self-defence.
He is further charged with assaulting Mr Adie by throwing stones at him and having scissors in his possession on May 7 in Overton Mains, and being concerned in the supply of cannabis and cannabis resin between January 1 and June 13 2016.
The court also heard evidence from a woman who was in a relationship with Coventry which ended in February 2015.
She told the court Coventry had turned up at her home the day after Mr Adie died and was "nervous and panicking".
She said Coventry had told her: "Some heavy s*** went down".
Giving evidence via a video link, the woman said when she met Coventry on a later occasion, she asked him if he had murdered Darren Adie.
She said he put his finger above her hip and said "that's where I got him".
"I said you're going away for a long time then he said I'm not going to get caught, there's no DNA," she added.
She told the court that when she quizzed Coventry about Darren Adie's death he "just shrugged his shoulders and smirked."
Defence solicitor Gordon Martin said: "He might have just shrugged his shoulders as if he didn't know."
Miss Sturrock said she understood the gesture to have meant "think what you want."
She told the solicitor that she hated the accused.
The trial before Lord Uist continues.