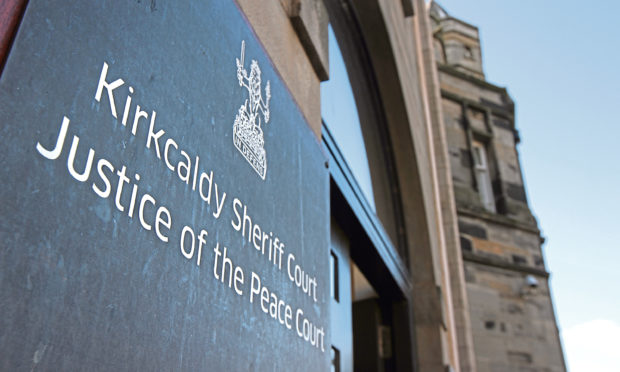 A man who went on a dangerous driving rampage through the streets of Kirkcaldy has been jailed.
The town's court heard Alexander Brown was probably under the influence of alcohol when he drove through two red lights, mounted a pavement and nearly hit two girls, drove down a one way street the wrong way and assaulted a police officer.
Brown's alcohol level was never confirmed because the 52-year-old refused to give a blood sample, claiming he "did not like needles" despite having several tattoos.
On being questioned over the assault on Constable Cristina Gomez, who he hit in the face, he told police: "From the age of 12 to 24, I was an amateur boxer and if I'd wanted I could have taken the three of you out."
Brown, of Knox Close in Blairgowrie, pled guilty to five charges during a previous court appearance.
He admitted driving while disqualified and without insurance on the Esplanade and Methven Road in Kirkcaldy, and other roads in Fife, on October 14.
Describing Brown's crime spree, a depute fiscal said police officers on patrol at around 2.45pm noticed the accused "wavering between lanes" and going through two red lights while driving on the Esplanade.
He then "sped away" via Links Street.
"He was driving half on the pavement and half on the road," said the depute.
"There were two young female pedestrians on the pavement at that time who had to run out of the way to avoid being struck.
"The accused then turned right and drove down a one way street the wrong way."
He eventually abandoned the car in a car park at Methven Road and tried to run away.
When Constable Gomez approached him he struck her on the head with his hand.
The depute added: "Other officers intervened and managed to take control of the accused."
When Brown was later asked to provide a blood sample for analysis, he told them he did not like needles despite officers noticing he had "several tattoos".
Sheriff Grant McCulloch said a custodial sentence was the only appropriate option and jailed Brown for nine months.
The accused was also disqualified from driving for a period of 30 months.
Sheriff McCulloch told Brown: "This period of dangerous driving was fortunately short, but I note that in the course of it you managed to run two red lights, hit a kerb, mount a pavement causing two young girls to flee out of the way, go the wrong way down a one way street and run off.
"All of this having been disqualified seven or eight months previously and probably, but it will never be established, under the influence of alcohol."