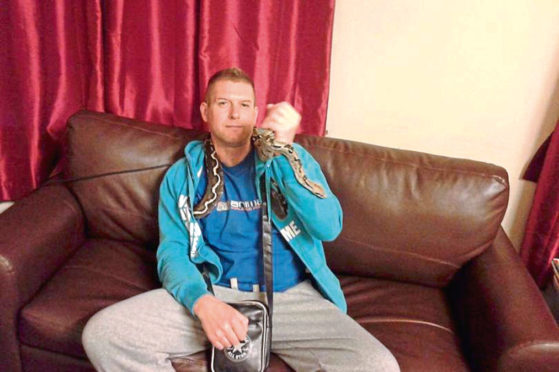 A man who stabbed his friend to death in Perth just days before Christmas has been jailed for seven years.
Jakub Kmieciak admitted killing Rafal Rymarkiewicz on December 23 2017 and told detectives he had been hearing voices at the time.
He was initially charged with murder but in January at the Edinburgh High Court he pled guilty to the lesser charge of culpable homicide, due to diminished responsibility.
Sentence was deferred for reports, which revealed Kmieciak suffers ongoing mental health difficulties. In September, while on remand at Polmont Young Offenders Institute, Kmieciak poured a kettle of hot water over himself.
On Thursday at Glasgow High Court the 20-year-old appeared in the dock surrounded by three security staff dressed in protective equipment, including stab vests and riot helmets.
Ronnie Renucci QC said the protective measures for staff were as a result of incidents within the prison.
He said: "This case has a long procedural history due, in no small part, to Mr Kmieciak's mental health.
"Since he has been back in the prison population there have been other difficulties, culminating in the procedures taken as he appears today.
"I understand from the reports  there have been two incidents whilst in Polmont – one more serious than the other – and I understand that this came about as a result of Mr Kmieciak once more hearing voices.
"He is aware that notwithstanding the lesser charge, he has pled guilty to a very serious matter and one for which, notwithstanding his mental health difficulties, a substantial custodial sentence is inevitable.
"However this is not a case where Mr Kmieciak has gone out looking for trouble or reacted to trouble in the normal sense. He has difficulties which clearly were at the heart of his acting. These appear to be ongoing but will be addressed in a prison setting.
"He hopes in time he will be able to return to as normal a life as possible."
He added that Kmieciak's mother had moved to Scotland from their native Poland to be closer to her son.
Jailing Kmieciak for seven and a half years, Judge Lord Burns said he would also be subject to supervision for four years after his release, but that he could also be deported to Poland once he is freed.
He said: "You pled guilty to the killing of your friend Mr Rymarkiewicz in December 2017 by inflicting a blow with a knife, which directly caused his death.
"You appear to be someone who is vulnerable to psychotic disturbance when you have taken illegal substances but having regard to the plea it was accepted on the basis that the abnormality at the time was caused by natural circumstances and not drug intake.
"Nevertheless, you have pled guilty to an extremely serious charge which must be dealt with by the imposition of a custodial sentence."
The court had previously heard that Kmieciak had been at a party in Perth's Wallace Court with his victim, with whom he shared a flat in the city's South William Street, and other friends when he suddenly took a blade from a knife block and struck him on the right side of the body.
Witnesses heard Kmieciak apologising for his actions and saying that he "had to do it".
Mr Rymarkiewicz was rushed to Ninewells Hospital but died the following morning.
Doctors concluded Kmieciak was suffering from an "abnormality of mind" at the time he attacked 34-year-old Mr Rymarkiewicz.