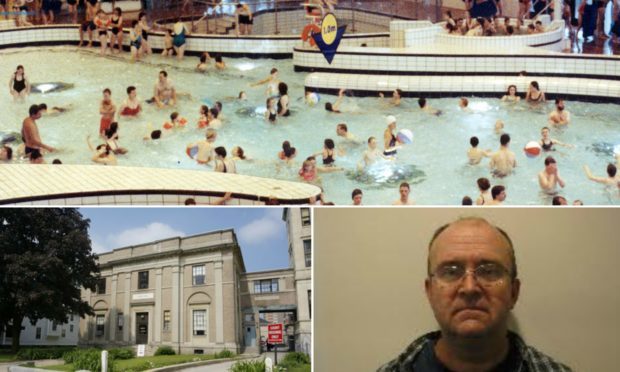 An American jailed for an act of gross indecency in Tayside in 2010 has been found not guilty of sex crimes in his homeland.
Brian Christian Hohman, 55, of Great Barrington, Massachusetts, was jailed for a year and put on the sex offenders register for 10 years after trying to lure a vulnerable 15-year-old Fife boy to commit a sex act at a Dundee swimming pool.
Hohman, who is still registered as a sex offender in three US states and the UK following his Dundee conviction, went on trial this week accused of sexually assaulting a man in his car during an encounter in a parking lot.
Tayside pool pervert held on $5,000 bail in US amid new allegations
The Berkshire Eagle reported that Hohman pled not guilty to one count of indecent assault and battery on a person over 14 in October 2017.
Hohman was accused of trying to ply the man with marijuana and offered to pay cash for the man's used underwear and naked pictures.
The alleged victim in the case, who is now 21, claimed that Hohman groped him when was 18.
He testified in Berkshire Superior Court that he gave his underwear to Hohman in exchange for marijuana-infused candy because he needed the money and was hoping to sell the edibles at a profit.
Hohman's attorney, Raymond Jacoub, told jurors that the situation between the two men was an ongoing consensual relationship and that consent extended to intimate touching.
"There's no crime that's been committed here," Jacoub said during his closing argument.
According to Hohman's testimony, his accuser allowed Hohman to perform a sex act on him and take explicit photos of him during the incident.
The jurors found him not guilty.
Hohman's extensive criminal background, includes a 1993 conviction for assaulting eight minors, for which he served six years in prison.
In June 2002, he pled guilty to failing to register as a sex offender in New York, and in June 2007, in Massachusetts, he was charged with being a fugitive from justice.
In November 2007, the equivalent of a fine from the prosecuting authority was imposed on him for sexual assault and he was fined $1,000.
He was not placed on the international alert list by the US authorities before he left the USA for an extended holiday in Europe and South Africa in November 2009.
The Dundee conviction prompted questions over how Hohman was able to travel freely without being monitored or notification of his movements relayed to authorities in the countries he visited.
At his Dundee trial, Hohman's solicitor said he was a landscape gardener who travelled abroad in winter.
Three youngsters from a children's unit in Kirkcaldy had been taken on an outing to Olympia.
The boys had gone into the pool and then returned to the changing room, where Hohman had told the victim there was a pornographic image in the toilets and made an indecent suggestion to him.