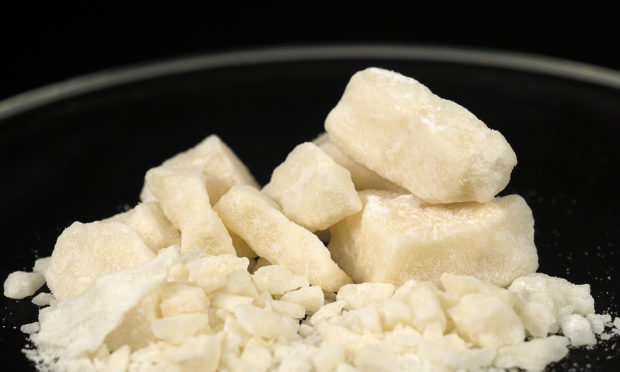 English gangs are using intimidation and violence to take over Dundee homes to use as safe-houses for pushing crack cocaine in the city.
Police Scotland chief superintendent Andrew Todd warned there has been an "emergence" of crack cocaine across Dundee with violent gangs using "county line" and "cuckooing" to sell the drug, a highly addictive form of cocaine.
And he said pushers from England are coercing vulnerable people across the city to act as couriers or using "intimidation, exploitation or violence" to take over entire homes which are then used as safe-houses.
In a report going before Dundee City Council's community safety and public protection committee, Ch Supt Todd said offenders from Essex, Manchester and London have all been arrested in Dundee in connection with the drugs trade over the three months to the end of September.
He said: "Recent times have seen the emergence of crack cocaine across the city, it is assessed this is being brought to the city by those who are involved in both County Line and Cuckooing activities.
"Council Lines Activity is the practice of English-based organised crime groups, travelling to Scotland to sell class A drugs, using young or vulnerable people to deliver to customers.
"Closely related is cuckooing, a term indicating the act of taking over a person's home by intimidation, exploitation or violence, to use as a safe house or accommodation for a drugs courier."
Ch Supt Todd added work is currently under way to raise awareness of both these criminal enterprises through the Health and Social Care Partnership and NHS.
Police are also working with charities such as Barnardo's Scotland, whose RISE project works with children who are the victims of, or are at risk of, sexual exploitation.
He said police have recently targeted a Manchester-based gang in relation to child exploitation in Dundee.
Ch Supt Todd wrote: "Operation Aardwolfblue is an operation focusing on an organised crime group from Manchester involved in the exploitation of young people in Dundee and the supply of drugs.
"The operation resulted in the arrest of several nominals from Manchester, the safeguarding of child victims and prevention work being carried out at a Dundee hotel where crimes occurred."
Ch Supt Todd's report states local police are working with the national Criminal Investigation Department and the National Organised Crime and Counter Terrorism Unit.
Thirty-four crimes have been recorded over the past quarter.
He said: "Drug types recovered during this period are in the main heroin, crack cocaine and tablets which are expected after laboratory analysis to be identified as benzodiazepine.
"Offenders from Essex, Manchester and London have been arrested in the city for the supply of control drugs during this quarter.
"Upon released from court each one has been granted bail with special conditions preventing them entering Scotland, it is assessed these individuals have links to organised crime."
According to Crimestoppers, victims of 'cuckooing' are often drug users but can also include people with mental of physical health problems, sex workers or people in poverty.
The charity said gangs often use several properties so they can move from one address to the other to evade detection.
In August, solicitor Ross Bennett told Dundee Sheriff Court the prevalence of crack cocaine in Dundee was reaching "epidemic" proportions.
Last month Police Scotland said rural communities in Perthshire and Aberdeenshire are being targeted by gangs who use county lines to move hard drugs.
They said dealers, mainly from London and Merseyside, use vulnerable youngsters to deliver drugs from cities and towns to rural areas.