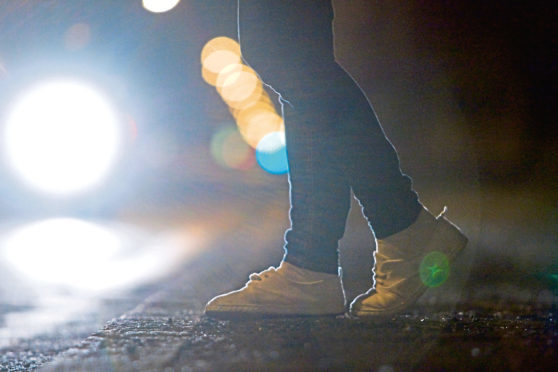 A survey into social attitudes to gender roles in Tayside and Fife has revealed a "disappointing" level of tolerance to sex work, with a high number in favour of prostitution.
The poll, carried out on behalf of the Dundee Violence Against Women Partnership, showed 51% of those surveyed agreed with or had no strong views on prostitution.
The majority (60%) also agreed with or had no strong views on groups of men aged 18 or over going to strip clubs, while 40% believed prostitutes could easily choose a different job if they wanted to.
Just over half of those polled disagreed with making paying for sex illegal and 56% believed that adults who watch pornography were not doing anything harmful.
Those who filled in the survey were much clearer in their negative views on violence against women in relationships, discrimination in the workplace, sexual violence and abuse within relationships.
Ann Hamilton independent chair of the Dundee Violence Against Women Partnership said: "It is clearly disappointing that the survey showed a far higher level of tolerance towards paying for sex, so-called entertainment and pornography than for example, sexual violence or the roles of men and women in the workplace.
"But what we have found out means that we can focus our resources much more effectively by shining a light on sexual exploitation and the vulnerability of those involved.
"The acceptance of men's right to buy women has to be challenged and we need to understand the impact it has on women's equality and our society more broadly.
"Only by doing so will the partnership be able to help to change some of the outdated and ill-informed attitudes that the survey uncovered."
A total of 621 people, mainly resident in Dundee but also in Angus, Fife and Perth, were surveyed during October and November.
The respondents were predominantly women (77%) with the remainder being men, or those who identified as "other", and the majority were in professional occupations.
In September, the Dundee Women's Rape and Sexual Abuse Centre highlighted that they'd seen an increase in the number of women turning to prostitution due to poverty, as they were unable to feed their children or heat their homes.
The centre's manager, Heather Williams, said: "It doesn't surprise me that a lot of women responded in the way they did to the survey.
"The objectification of women is internalised by both men and women, and sex work is often sold as empowering and glamorous.
"This is not the reality on the sharp end, in Dundee. It's about poverty and survival, it's not a choice."