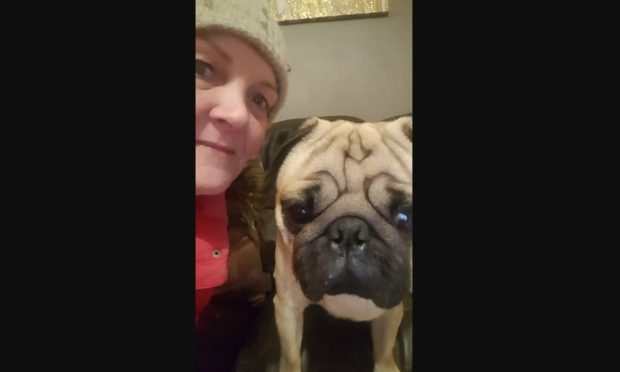 A Dundee animal lover said she was left "shocked and sickened" after she witnessed a thug beating up his dog.
Sonya Meldrum said the man appeared to be under the influence of drugs or alcohol as he "fiercely" punched the animal to the ground on Tweed Crescent.
The horrified pet owner said the incident happened after the man's dog snarled at Sonya's pug, Brave, as she walked it on its leash.
Sonya pleaded with the man to stop hitting his pet and has now alerted the Scottish SPCA and the police.
She said she was worried about the dog's welfare and was hoping other witnesses might come forward.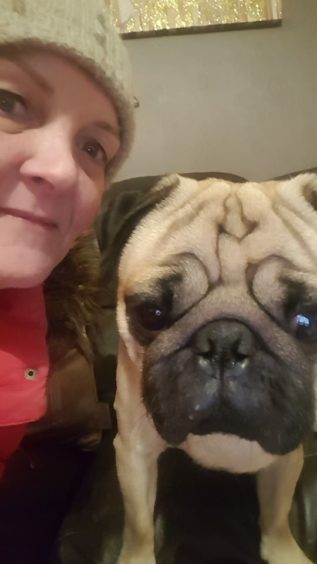 The 54-year-old said she had taken her own dog out for a walk at around 8.15pm on Wednesday when the encounter happened.
"This man and his dog, which was some kind of Staffie cross, were coming towards me," she said.
"As we passed, the man's dog bared its teeth and was straining on its leash, towards my dog.
"It didn't actually touch my dog but this man punched it to the ground.
"He was hitting it fiercely, three or four times.
"I was shocked, sickened by it. I kept saying 'please don't hit your dog, it's not his fault'.
"The man wasn't in control of himself  – he was swaying from side to side, clearly under the influence of something."
Sonya said she no longer felt safe walking the streets in her neighbourhood following the incident, which is the latest in a number of anti-social behaviour episodes.
She added: "You used to get a bit of noise and mess from the kids at the old Menzieshill High School but since that's shut it's got so much worse.
"There's constant drug-related activity on the path behind the school.
"I also used to have heroin dealers living beside me and it was hell.
"You get all sorts of shady characters on the streets here, it's not a safe place.
"I feel afraid even taking my dog out for a walk these days.
"Seeing that dog punched has really upset me, I feel sick thinking about it."
The Scottish SPCA has been contacted for comment.
A Police Scotland spokeswoman said: "We are aware of the matter."