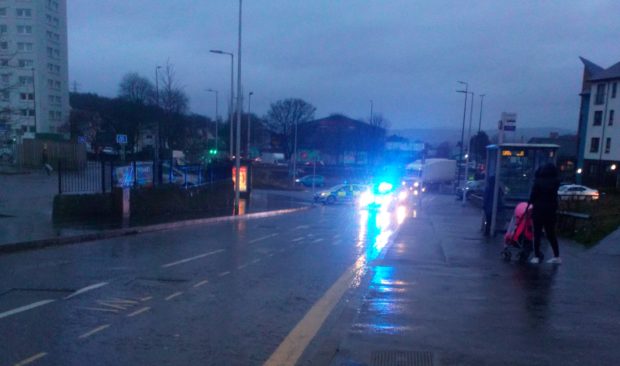 A Dundee man who rang 999 after an elderly woman was struck by a bus on Lochee High Street has hailed the heroes who helped her recover.
Four police cars and an ambulance were called to a collision on the junction of High Street and Bank Street at around 9am on Tuesday morning.
The High Street was closed for 30 minutes as emergency crews helped the woman, thought to be have been in her 80s, who suffered a head injury.
She was taken to Ninewells in what police described as a non life-threatening condition.
Dryburgh man David Myles was standing on the High Street waiting for Boots to open when he saw an Xplore Dundee 22 bus swing around the corner, close to the British Heart Foundation shop, heading away from the city. The next thing he saw was a woman fall on the floor, banging her head against the pavement.
David told The Courier: "I saw the bus passing and turn, then the girl on the deck. The bus driver was in tears; he was a big, burly boy but you could see that he felt it."
David rang 999 and emergency services arrived soon after. Also on the scene were officers from bus company Xplore Dundee.
The heroic first responders, however, were people in the local community. Two workers, believed to be from Dundee City Council, were removing Lochee's Christmas tree at the time.
David said they raced to help the woman and used tarpaulin from their job to keep her warm while waiting for the ambulance to arrive.
Staff from Boots administered first aid and workers from Lloyds Pharmacy provided a waterproof jacket as the rain came lashing down.
"If it was not for those of us who helped her she might have ended up a lot worse," added David.
"The two men working on the tree were absolutely outstanding. They had been cutting down the Christmas tree but saw the woman and used a ground sheet to cover her, which was such a help as it was throwing down with rain at the time.
"Lochee gets a bad name but so many people rushed to help this old lady. None of us could walk away from an old lady falling like that."
David says the woman was eventually able to stand up before being transported to Ninewells Hospital by an ambulance.
A police spokesman said: "Police were called at around 9am to High Street Lochee following reports of a road traffic collision involving a bus and pedestrian. Emergency services attended the scene.
"One person with non life-threatening injuries has been taken to Ninewells Hospital by ambulance for treatment."
A Scottish Ambulance spokesperson said: "We received a call today at 8.57am to attend an incident on Lochee High Street in Dundee.
"We dispatched one ambulance which arrived on scene at 9.02am. We transported one female patient to Ninewells."