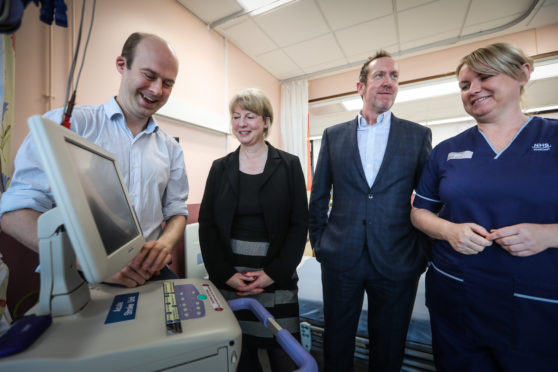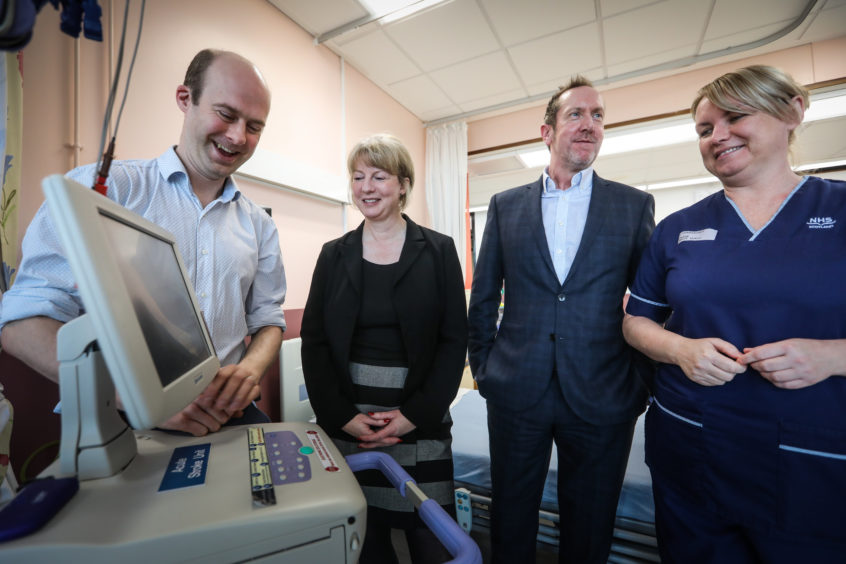 A leading stroke charity has hailed the new hyper-acute stroke unit at Ninewells Hospital and called for the model to be replicated across the country.
The unit in Ninewells Hospital was launched  in November and sees patients from across Tayside brought to Dundee for treatement.
Shona Robison,Dundee East MSP nad former health secretary, visited the hospital on Friday to see the work being done by clinic lead Dr Matthew Lambert and his team.
The new hyper-acute stroke service was built to assess and treat patients within 12 hours of admission to hospital.
The unit is also hoping to offer treatment via thrombectomy, the mechanical removal of blood clots.
That service was previously available in Edinburgh but was pulled due to staffing issues.
Colin Oliver, Stoke Association public affairs officer, joined Ms Robison for a tour of the new unit.
He urged all health boards in Scotland to adopt NHS Tayside's example.
Mr Oliver said: "This is the kind of change we'd like to see other health boards across Scotland take up.
"Tayside is leading the way and the first health board to create a hyper-acute stroke unit.
"I think a lot of credit goes to the entire team. They have made it happen."
Ms Robison said the centralisation of services to Ninewells meant patients could see a specialist quicker.
Concerns were raised when it was announced the hyper-acute stroke admission service at Perth Royal Infirmary would be closed in favour of the Ninewells unit.
But the former health secretary said the decision to move assessment and treatment to Dundee was the right one.
She said: "I am hugely impressed with the work being done here.
"To bring the service into the one place was good. Patients get assessed quicker and that matters in terms of best care.
"It means the stroke patients are more likely to go away from here with an increased quality of life."
Mr Lambert said: "All patients are now able to be assessed by a stroke specialist, admitted to a stroke unit, have ongoing assessments by therapists and, where clinically appropriate, receive emergency treatments to remove blood clots."