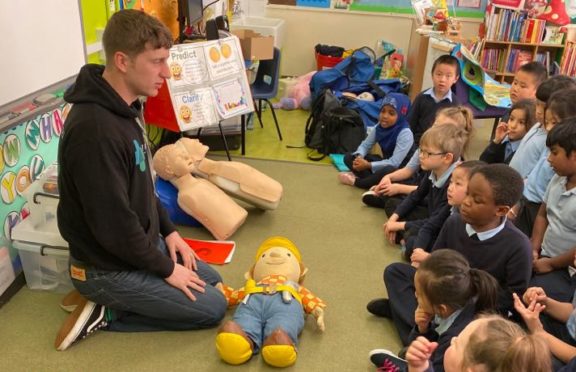 A Tayside husband and wife duo have launched a series of first aid classes on social media to keep children learning while in isolation.
First Stop Safety Training, run by Sean and Robyn Duffy, aims to create an army of lifesavers using just their teddies or a pillow from the comfort of their own home.
Children from as young as three can tune into the 20-minute livestreams on the company's Facebook page each Friday from 11am.
The pair have created a fun and interactive class to keep youngsters engaged, after their Easter holiday workshops were cancelled.
The sessions teach children how to perform basic CPR each Friday for three weeks.
The classes are modelled after their Tiny Medics workshops, which teaches children how to respond in an emergency.
Sean said: "We suspended all of our upcoming training sessions for the next three months because of the coronavirus outbreak.
"We had lots of classes planned during the Easter break for children so we have decided to put it online so that kids don't miss out.
"We are trying to teach as many kids across Scotland as we can and make sure everyone is learning the lifesaving skills.
"There is so much free time at the moment so we need to fill it with learning productive things.
"The NHS is under so much stress at the moment, it could be more pivotal to learn this skill than ever before."
First aid classes saw a rise in demand over the last year as parents were eager to equip their children with the skills.
Tiny Medics classes, run across Tayside and Fife, tailor lessons to different age groups, where young children will learn how to make emergency calls and treat cuts with plasters, while older children learn full CPR.
As well as travelling the country ensuring children are comfortable responding in an emergency, the couple have also launched an online mental health workshop to help adults cope with anxiety.
The workshop will cost £10 and is available for three months after purchase, with downloadable content provided to users.
The course is available through the couple's website
.