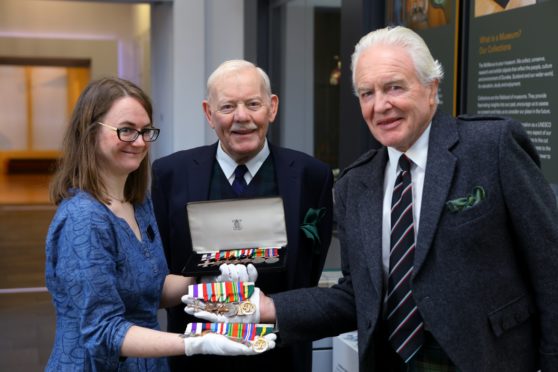 A descendant of three Dundee brothers who won four Military Crosses between them during the Second World War has expressed delight after learning that another close relative was also awarded the honour for gallantry.
In November, Ian Rae presented the four medals to The McManus in Dundee to honour the remarkable battlefield achievements of his late father Stanley Rae and his uncles Ian, Bruce (who won two medals) as well as Douglas who spent most of hostilities as a prisoner of war.
However, he was delighted to learn this week from The Courier that his father Stanley's first cousin Captain William Bruce Rae-Smith – nephew of Mr and Mrs A S Rae of Bramblebank, Broughty Ferry –  also won a Military Cross bringing the total in the family to five.
An Evening Telegraph newspaper report from May 4 1945 headlined 'Fourth Cousin to win MC' was stumbled across by The Courier in the British Newspaper Archive while researching a supplement to mark the forthcoming 75th anniversary of VE Day.
Mr Rae told The Courier: "That's very interesting!
"That's a first cousin of my father's. I knew he got a Croix de Guerre but didn't know he got a Military Cross!
"My father   Stanley   knew  Bill  well  and we  often  met up  when  he came   north   home   from   Hong Kong and lived   at Oathlaw.
"He was   a fine man   but was   badly injured   in the   war   losing   an eye  and having  other  problems too."
Mr Rae said that his father and uncles rarely talked about their wartime experiences – as was often the case with that generation. His uncle Douglas once told him a story about being captured at St Valery and being glad he had a new pair of boots because they "made him march 1000 miles".
However, he revealed it was only after his uncle Bruce died that the family acquired his equivalent of two Military Crosses. The first was awarded after leading a daring bayonet charge on enemy positions in North Africa, and the additional bar was for later heroics in North West Europe in 1945.
"It was about 1980 when I said to my father 'where are Bruce's medals?'," Mr Rae recalled.
"He said 'I have no idea'. A friend of mine was a colonel in the Royal Scots living next door to me: he said 'why don't you write to the war medals office?' The form came back and said they'd never been claimed.
"It had to be signed for by the oldest living member of the family who at that time was my father.
"He signed for the medals and up they came. That's how we got them back. Otherwise we might never have got them.
"When they came back addressed to him he said 'you can have them. You've done all the work to get hold of them'."
·  The story of the Rae brothers is included in a special VE Day 75th anniversary supplement that will appear in The Courier of May 8.