VIDEO: Moment miracle Maureen checks out of Dundee hospital to applause after 19 days on ventilator
By
Jake Keith
May 13 2020, 6.46pm
Updated: May 14 2020, 9.52am
A Dundee woman who spent 19 days on a ventilator on the verge of death battling Covid-19 has made a miraculous full recovery.
Maureen Deuchars, 65, spent more than six weeks in total fighting the virus but was discharged from the Centre for Brain Injury Rehabilitation (CBIR) at Dundee's Royal Victoria Hospital on Wednesday.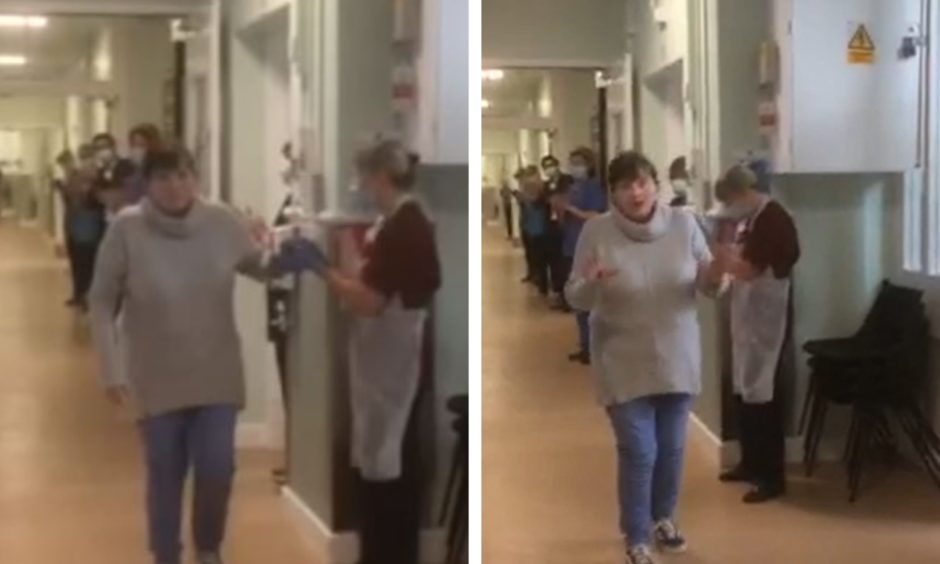 She was first admitted to the Covid Assessment Unit at Ninewells Hospital on March 29 but was swiftly transferred to intensive care when her lungs deteriorated rapidly.
With machines keeping her alive, she managed to regain enough strength to fight off the virus over two and a half weeks and was eventually moved to CBIR to regain her strength.
Her daughter Danielle Najahi said they owe her life to the "amazing and compassionate" healthcare staff.
"I would just like to say thank you on behalf of my mum Maureen, myself and all my family to NHS Tayside," she said.
"The team in the Intensive Care Unit (ICU) was phenomenal and they made sure they kept my family and I updated throughout my mum's time with them.
"They are amazing at what they do and without them my mum would not be alive today.
"The care and expertise this whole team gave to my mum makes me so proud to work for NHS Tayside.
"Mum showed great determination to get back on her feet and walk again with the help and support of the physiotherapists and occupational therapists."
Maureen Deuchars leaves hospital! Danielle Najahi's mum Maureen spent 45 days in hospital after contracting COVID-19 and today she walked out of hospital to the sound of nurses clapping her. https://t.co/7HOyDlOmNB pic.twitter.com/bBKNpMSPZU

— NHS Tayside (@NHSTayside) May 13, 2020
Maureen left CBIR to a parade of applauding nurses and was visibly emotional as she walked past.
She had spent a remarkable total of 45 days in hospital.
Danielle added: "The amazing care and compassion shown throughout this whole journey from ICU, High Dependency Unit (HDU), Ward 3 and CBIR has been phenomenal and we, as a family, will be forever thankful to everyone at NHS Tayside who looked after our mum.
"Hopefully, when this is all over we can visit the hospital with mum and thank all the staff personally.
"I am really pleased to say that mum has now left the Centre for Brain Injury Rehab after a long six weeks but is happy to be going home to be with my dad and all her home comforts."