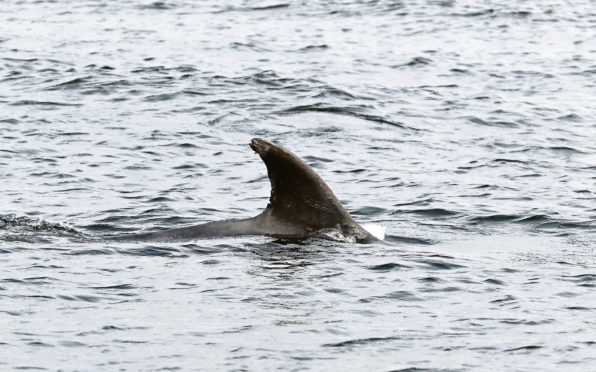 A dolphin originally seen in Scottish waters more than 30 years ago has been spotted for the first time this year as part of a long-running project to monitor the animals.
The bottlenose dolphin, named Singers, was the first animal recorded when surveys of Scotland's east coast population began in 1989.
The animal, identified by scars and other markings on its dorsal fin, was spotted for the first time this year at 9.18am on July 15, swimming in the Firth of Tay, close to Broughty Castle.
Singers – thought to be a male around 40 years old – had last been recorded during surveys on May 29 2019.
Dr Monica Arso Civil, of the Sea Mammal Research Unit at St Andrews University, said the animal was with five other bottlenose dolphins "swimming slowly and doing long dives".
Among the other dolphins in the group was a female known as Oats LA and also a 13-year-old female called Bunsen.
Dr Arso Civil said: "Singers was seen very close to Broughty Castle, in a small group. He has some new marks on his dorsal fin, from interaction with other dolphins – either a playful encounter or a rather more aggressive one.
"Seeing Singers again tells us not only that he is alive but a little more about how this population is doing and the movement of these animals.
"Our surveys give us a snapshot of what these dolphins do between May and September. We don't know for sure where Singers spends winter but it looks like this animal currently has a preference for Tayside in the summer months."
The east coast bottlenose dolphin project is conducted by researchers at the Sea Mammal Research Unit based at St Andrews and Aberdeen University.
Now in its 32nd year, it is one of the longest running projects of its kind in the world.
Singers was the first dolphin recorded in 1989 and is registered as number one in the surveyors' catalogue.
Although the scientists are not 100% certain, Singers is thought to be a male because of his large size and the number of nicks and other marks on his dorsal fin as males tend to be more scarred than females. Singers has also never been seen with a calf.
Singers got his name in 1989 after scientists monitoring the animals in the Moray Firth spotted nicks in its dorsal fin, which in silhouette looked like little open mouths.
Between 1989 and 2014 the dolphin was mostly seen in the Moray Firth, but since 2015 has usually been spotted in the Tayside area.
The bottlenose population off the east coast of Scotland is thought to be increasing in number and expanding its range.
There are currently thought to be more than 200 dolphins in the population.