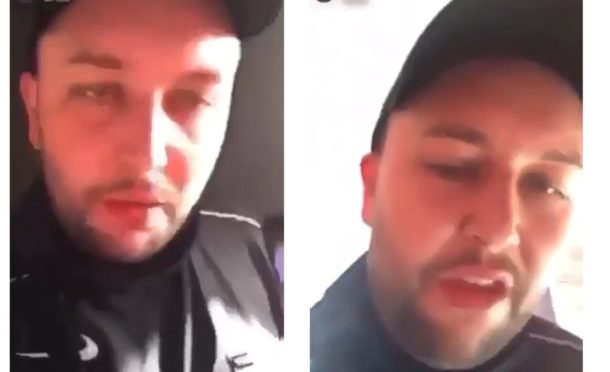 A vodka and cocaine-fuelled thug viciously stabbed his friend before filming himself waving a bloodied kitchen knife while his victim pleaded for help.
Steven Tosh, formerly of Blacklock Crescent, Dundee, admitted leaving Bruce Harper permanently disfigured in the attack on June 20 this year.
Dundee Sheriff Court heard the unemployed 28-year-old had received a call from Mr Harper before heading round to his flat in the city's Elders Court multi just after noon.
The pair downed bottles of vodka and snorted cocaine before a minor row began.
Fiscal depute Stewart Duncan said the victim had complained the cocaine was "off" before tempers flared.
He said Tosh was in the bathroom when MrHarper said he needed in.
Tosh shouted at him to wait before coming into the living room and stabbing him on the left side of the face and in the back.
"Mr Harper managed to get to the phone to call the concierge while holding the door to the living room closed," said Mr Duncan.
"He said 'can you get me the police I have been stabbed and I am bleeding badly'.
"He then managed to run out of the flat and downstairs to the car park but was bleeding heavily.
"Witnesses saw him on one knee and said his T shirt was saturated in blood.
"They both applied pressure on the wounds while Mr Harper kept saying 'he is in my flat with a machete.'"
The victim was rushed to Ninewells Hospital with five stab wounds, three on his back and two to his chest and jawline.
The injuries left him with permanent scarring to his face and body though none of the wounds penetrated deeply.
While Mr Harper lay in the other room shouting for help, a clearly inebriated Tosh uploaded a series of bizarre videos to social media app Snapchat boasting about the attack.
A police search found blood on the wall and phone while the knife used had been stabbed into the carpet.
Defence solicitor Paul Parker Smith said his client has previously been diagnosed with post-traumatic stress disorder (PTSD) after being stabbed on two previous occasions.
He added Tosh, who has a number of previous convictions including four separate assaults, offered no excuses for his behaviour however.
Tosh admitted a charge of assault to severe injury, permanent disfigurement and danger to life, having initially been charged with attempted murder.
Sheriff Richard MacFarlane jailed him for 32 months, reduced from four years due to his early plea.