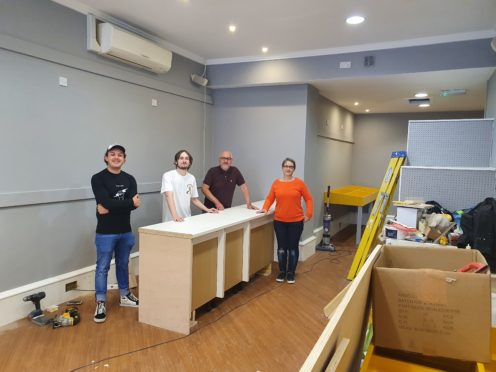 Tayside's music loving public has received a much-needed boost with  news a new second-hand record store is to open in the city centre.
Following the sad announcement last week the iconic Groucho's Record Store in Nethergate was closed for good, Thirteen Records will open its doors to the public for the first time on Thursday.
The new business has been set up by three former staff members at Groucho's – Frank Mills, Morag "Moog" Rogers and Lee Scott – who have been working for the past few weeks to prepare the Union Street shop for opening.
Their former boss and close friend Alastair "Breeks" Brodie passed away just over a year ago and the staff had kept his store running until the lockdown in March.'
Legendary Dundee record store Groucho's officially closes as stock cleared from shop
After becoming jobless in the summer, Moog, Frank and Lee got together and decided they all wanted to continue in the trade and maintain a second-hand record store presence in the city centre.
While their new shop is a completely independent venture, Moog revealed they might have been working in the same shop two years ago.
"When the lease for Groucho's was running out in 2018, this place came up and Breeks looked at it but his illness was such that he just felt he couldn't do the big move. His lease got extended so we stayed there until lockdown."
When the vacant premises at 13 Union Street became available they seized the opportunity.
"We wanted to speak to Breeks' family before we said anything and they've been really supportive. They were obviously upset about the shop shutting but they've been great with us.
"We're now just really looking forward to opening."
Lee said: "We've got more than 75 years of experience between us, selling records in Dundee.
"People know us, so it'll be familiar for the customers. We wanted to make sure there was still a place selling second hand records in the city centre and as well as that we wanted to make sure Breeks' legacy continued."
Frank said: "The ethos will be the same, the essence of what Groucho's was and how it operated will still be there, but it will be a wee bit more modern.
"Thirteen Records will still be buying and selling second hand CDs and vinyl."