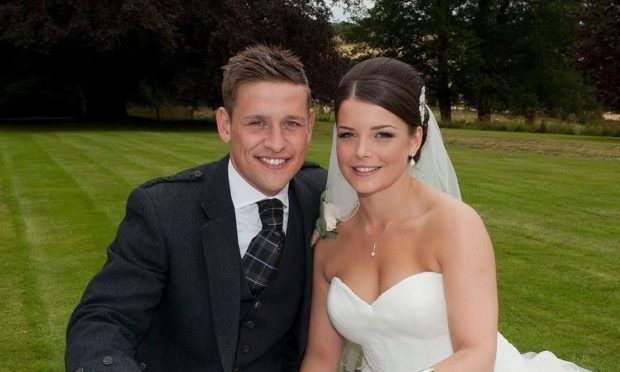 The widow of a young Dundee father who died at the weekend has spoken of her "wonderful, funny and loving" husband.
Tributes to Jayson Alexander have been paid by Dundee's football, fitness and media communities after the 32-year-old passed away.
His wife Lynsey Alexander said: "I'd like to say thank you for all the kind thoughts and messages for me and our boys during this heart breaking time.
"I'll make sure I raise our boys to know what a wonderful, funny and loving Daddy they had.
"He lived for our boys and it's so cruel how suffering with mental health problems has taken him from us.
"You will never leave our hearts and I know you'll never truly leave us. I love you Jayson: always have, always will."
Clubs Lochee United and Dundee FC paid tribute to Jayson from the city's football community.
Teammates nicknamed Jayson "Shyness" in an ironic nod to the then-Lochee United player's remarkable confidence, a club spokesman said.
He added: "It goes without saying he was a character both on and off the park.
"Over the last couple of the years the club has lost far too many good people I hope they have Jayson in their arms now and are looking after him.
"Rest in peace Shyness."
A Dundee Football Club spokesman said: "Everyone at Dundee Football Club were devastated to hear of the passing of Jayson Alexander.
"Jayson was the club's strength and conditioning coach between 2013 and 2015. Our thoughts are with Jayson's family and friends at this difficult time."
Footballer Craig O'Reilly also paid tribute online.
He posted: "Devastating news to hear this. Had the pleasure to share a dressing room with him and was a lively character.
"Thoughts go out to his family at this difficult time. Rest easy mate."
Jayson graduated from Abertay University with a BSc in sports and exercise science in 2012 and went on to hold a number of jobs in the fitness industry within Dundee, as well as playing junior level football.
Originally from Livingston in West Lothian, he also worked in sales for Dundee radio station Wave FM between May 2017 and February this year before leaving for a new position.
Andrew McMurray, DC Thomson head of radio sales, said: "He was a great character and a valued member of our team. He was well respected and loved by his clients and colleagues."
Friend Graham Hay set up a JustGiving page on Monday morning to raise funds for Jayson's family. It had almost reached its £5,000 target by late afternoon on the same day.
He posted on social media: "It is with much sadness that I say RIP to a really good friend
"Me and Jayson go way back. He was such a good friend. He always had a smile on his face and would do anything for anyone. Such a loving dad and doted on his wife Lynsey.
"RIP mate. You will be missed."