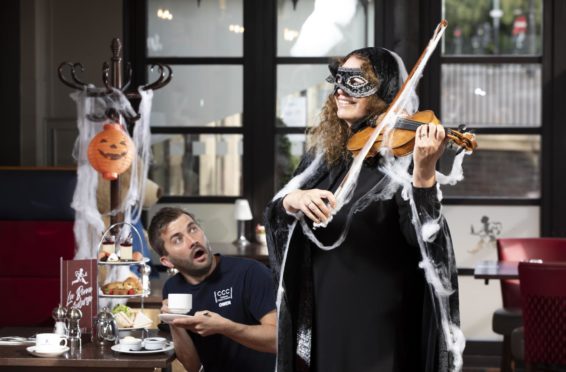 Some of Tayside's favourite venues are still planning socially-distanced spooky events for a pandemic-friendly Halloween.
For the first time since March, Dundee's Caird Hall will be back in the spotlight with a special online concert.
The Haunted Concert Hall invites the whole family family audience to enjoy a rarely-seen socially distanced orchestra, co-hosted by Children's Classic Concerts  and the Royal Scottish National Orchestra (RSNO).
Children's Classic Concerts presenter and percussionist Owen Gunnell is preparing to walk the eerily empty corridors of the hall,  dusting off its cobwebs and putting on a show that won't trick but what will certainly teat.
The October 31 free event will feature special effects, soloists from the RSNO and a reduced orchestra of 20.
Owen said: "Even though we are sad not be presenting our normal Halloween concerts live on stage this year, getting let loose in a huge empty concert hall like the Caird Hall was an opportunity we couldn't miss.
"Some of the corridors backstage were pretty spooky even before we gave them the Haunted Concert Hall treatment. We can't wait for families to settle down to watch.
"Hopefully we can spread a little bit of silliness and share some incredible performances."
The RSNO's Bill Chandler is also excited about the event, which can be viewed on the Children's Classic Concerts website and Facebook page.
He said: "Halloween is going to feel different this year so we are excited to be a part of this safe and fun way to celebrate the spooky season with families across the UK.
"We are so proud of young people across the country who have been so brave this year, but I think even this bold new generation will be spooked by some of the encounters Owen faces in The Haunted Concert Hall.
"Our musicians and Junior Chorus have had a lot of fun being involved in this performance, as we always do with Children's Classic Concerts, and we can't wait to tune-in for the concert on Halloween."
Meanwhile, a reputedly haunted Perthshire castle is scaring up some Halloween fun with a family-friendly exhibition, spooky forest trail and scavenger hunt.
The activities at Blair Castle, near Pitlochry, will also celebrate some of the area's famous ghouls and run until October 28.
While sightings of the castle's grey lady are well known, archivists have delved into the vaults and blown the cobwebs off some other entertaining stories, including reports of blood sucking fairies and the unfortunate tale of the Countess of Atholl, who was falsely accused of witchcraft.