Search for missing Ferry pensioner Jack Greenway goes on as police seen combing area
By
Jake Keith
November 10 2020, 11.02am
The search operation for Broughty Ferry pensioner Jack Greenway continued throughout Monday following the 77-year-old's disappearance.
A large police presence was again deployed to the Esplanade in the hope of finding the former Menzieshill High School teacher.
Mr Greenway was last spotted at around 11pm on Saturday evening when he left his home on the Esplanade wearing only pyjamas.
Search to resume for retired Tayside teacher last seen in his pyjamas in Broughty Ferry
As hours tick by, family and friends are growing ever more concerned for the popular pensioner's wellbeing.
Police sniffer dogs and handlers have been utilised in a bid to pick up his scent and were seen in the area near to his home yesterday morning.
Mr Greenway, a keen environmentalist often seen picking up litter from the beach and parks in previous years, lives just metres from the dunes at Broughty Ferry.
Several Police Scotland search teams have been sweeping Broughty Ferry Nature Reserve, Orchar Park, Barnhill Rock Garden, and Reres Park, all just metres from his home.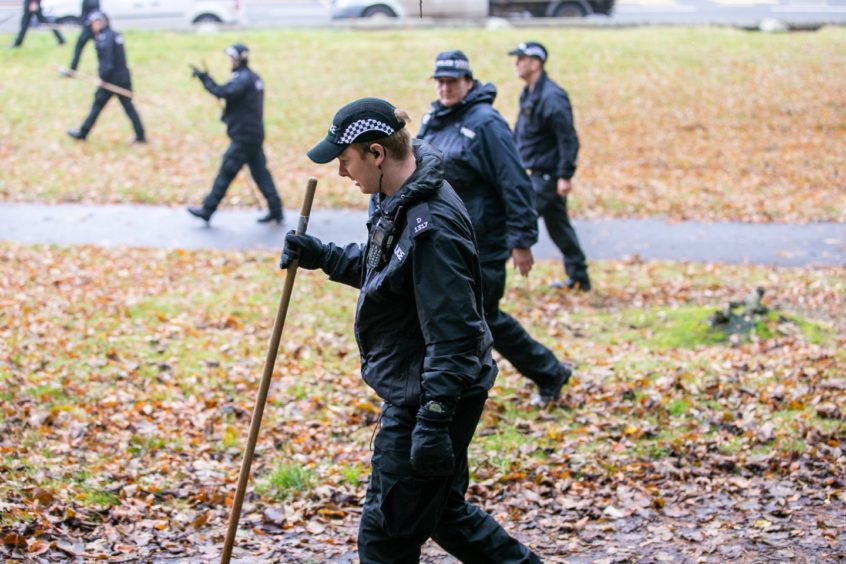 Officers have also been diligently knocking on doors in the Esplanade and surrounding streets in the hope a neighbour may have spotted the retired geography teacher.
Ferry councillor Craig Duncan said he knows Mr Greenway and is hoping the worst is not realised.
He said: "There's a real groundswell of support among people who are hoping for a good outcome.
"I personally spent around three or four hours looking on Sunday in the rain and I know I wasn't the only one.
"I know Jack as an acquaintance. He has been involved in the Ferry community council as well as cleaning up local areas.
"He seems to be a quite well regarded around here.
"I hope he's OK and returns home or makes contact with the authorities."
Search continues for missing Broughty Ferry pensioner Jack Greenway
Mr Greenway is five feet eight inches tall with white hair, a white beard, and of slim build.
Locals have been urged to check sheds, garages and other outbuildings in case he has taken shelter.
Mr Duncan added: "The police will have had conversations with the family about where he could potentially have gone.
"There are lots of locations nearby. There is always a chance and you have to be positive in these things."
The search follows Sunday's multi-agency hunt when a Coastguard search helicopter was seen in the skies for several hours.
Broughty Ferry all-weather and inshore lifeboats have also been involved in the operation.
When approached yesterday, Mr Greenway's family said they did not wish to speak.