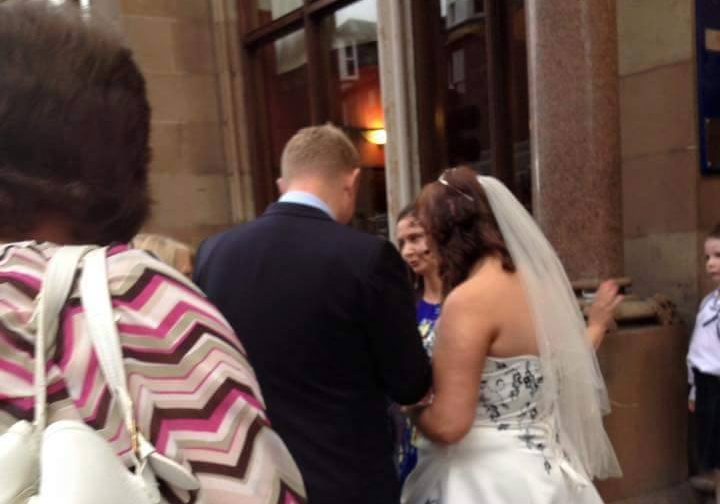 Two weddings were evacuated from a Dundee hotel after part of the ceiling collapsed during a cake-cutting ceremony.
Unsuspecting wedding parties within the city's Queens Hotel were rushed from the building minutes after the venue's ceiling gave way, leaving one groom's best man with a concussion.
Newly married Gary and Emily Parkin were set to slice their cake when "concrete" and plaster plummeted from the building's ceiling seconds after celebratory balloons had been released.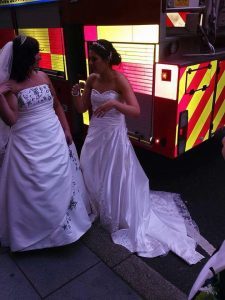 The Parkins and a second wedding party were then left to make other arrangements after firefighters ruled the building unsafe.
According to the hotel, they were then allowed to re-enter 90 minutes later.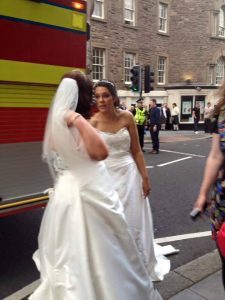 Gary's father, Bill, admitted the newlyweds have been left devastated following the incident on Saturday night.
The 55-year-old revealed younger son, Neil, who acted as best-man was struck by a "concrete" slab leaving him requiring hospital treatment.
He said that Gary and Emily, who have been together since 2003, are unlikely to organise an alternative ceremony.
"The band were just warming up and we had a net which opened balloons and confetti while Gary and Emily were cutting the cake," he said.
"There was a small bang when this happened, but then there was another bang and it was like: 'What was that?'
"A fragmented slab of concrete came down from the floor above where we were.
"I was at the bar, but heard Neil had been hurt. I came in and saw him sitting as white as a ghost.
"We'd only been in the place 40 minutes – the place was only just beginning to fill up.
"All Emily wants to do is go down to Queen's and draw a line under it.
"They're both understandably gutted. The day was ruined by half past eight."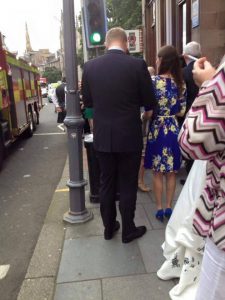 Neil, 27, said: "I've still got a sore head and am a bit dizzy.
"I got plastered, but not the way I wanted.
"I was outside taking a family portrait when I heard they were cutting the cake.
"I came back in and they had only just cut the cake when I got a smack on the back of the head.
"The night was just starting."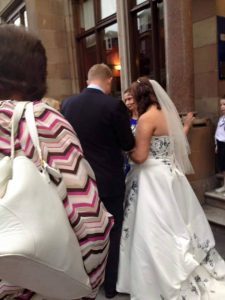 Comments on social media suggested there had been issues with the ceiling on June 24, but a spokeswoman for the hotel denied the claims saying just a few tiles were changed following a minor leak.
She added: At 8.30pm there was an incident at The Queen's Hotel during which it appears that small portion of a plaster from the original lathe and plaster ceiling came loose, falling through the false ceiling below.
"This resulted in a few tiles and some plaster debris falling into the room.
"Emergency services were immediately called as a precaution, which resulted in one of the guests being taken to hospital with a minor complaint."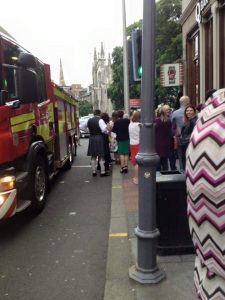 Hotel proprietor Gordon Sneddon added: "I am obviously deeply upset for our bride and groom and their guests and expect to be in further discussions with them.
"This is an extremely unfortunate incident that in no way could have been foreseen and our guests can rest assured that there will be a full inspection of the Queen's Hotel."
The second couple involved in the drama admit they don't know whether to laugh or cry.
Keith and Sharon Clark were enjoying their wedding reception in the second floor function suite of the Queen's Hotel when the incident occurred.
Following the ceiling collapse, Keith, 50, and Sharon, 46, were evacuated along with everyone else in the venue.
The couple had drinks in the nearby Medina restaurant before being allowed back into the building.
By that point however, the duo's big day had been left badly marred.
Speaking the morning after the night before, a bemused Keith said: "No one can top this
"I gave up smoking back in October, but I had to go outside and have a couple of cigarettes last night.
"I'm calm now, but I was raging last night.
"The fire alarms ended up going off and we were told we had to get out of the building.
"The atmosphere was definitely on a downer after it happened, but you have to perk up and get on with it.
"This is the first time I've been married and I think it will be the last."
His stunned wife Sharon added: "The staff were excellent, but it's the last thing you expect to happen.
"I felt so sorry for the bride down the stairs.
"Both of our days have been ruined."