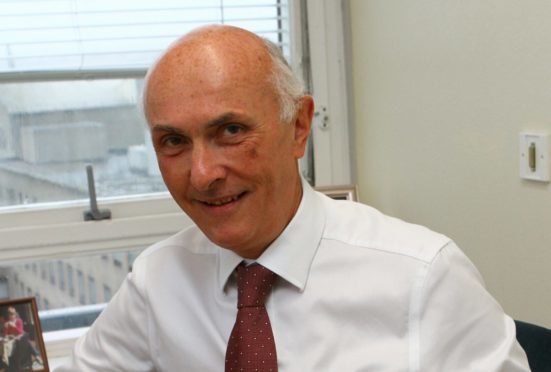 NHS Tayside chairman Professor John Connell insists the health board does not have an issue with staff bullying.
Domestic service staff members 
of Unite the Union previously balloted 
"overwhelmingly" in favour of industrial action amid claims NHS Tayside 
management were not following the correct procedures regarding bullying and harassment.
Responding to a consultative poll of members, 98% of the hospital's 160 domestic staff said they would back industrial action should it be tabled.
Members eventually agreed on new proposals after crunch meetings between union bosses and NHS Tayside.
The claims were revisited during a meeting of the Public Audit Committee, sitting in Dundee.
Questioning health board bosses, Ross Thomson MSP argued: "With staff morale in tatters, is that not a direct result of the failure of management to address issues round about vacancies, round about bullying and your ability to communicate with your staff?"
NHS Tayside chair Professor Connell argued he did not believe assertions of bullying were as widespread as claimed.
Professor Connell said: "If we have evidence of bullying or major staff grievance then we want to hear about it. My experience in meeting staff is that it does not accord with the statements made by RCN or Unison. I don't think it is as widespread as is indicated to the committee."
NHS Tayside chief executive Lesley McLay said "immediate action" would be taken in response to any claims of bullying.
She said: "I was extremely disappointed to hear that. I have regular dialogue with the RCN, as does my nursing director, and I absolutely give the commitment that if there is any situation in terms of bullying or harassment then we will take immediate action. That is our track record."
Both Professor Connell and Ms McLay added they believe they retain the confidence of health care staff.
As revealed on Thursday, members of the Royal College of Nursing claimed focus on "minute budget details and savings" has had "a profound impact on staff morale and confidence".
The union added that the issues had led to "a breakdown between management and staff working in partnership".
Raymond Marshall, joint branch secretary of Tayside's Unison branch, said: "People are feeling the strain.
"There's massive pressure on work life balance."
Mr Marshall added that he felt the relationship between managers and staff had deteriorated.