On August 7, 2017, Linda McDonald was left for dead after being attacked by convicted murderer Robbie McIntosh.
Nearly five years on, the Dundee grandmother has launched Justice4Linda, a new campaign which calls for more answers about failings in the system which allowed this to happen to her.
McIntosh – who was on a week of home leave from prison at the time while serving a life sentence for the 2001 murder of Anne Nicoll – is now eligible to apply for parole.
Linda, 57, has written to the board asking for this to be refused.
And from the letter – in which she opens up on living with PTSD as a result of the attempted murder – Justice4Linda was born.
She said: "As I now live with the trauma of my attack, I want to fight to protect the lives of innocent women, men, children and families.
"The justice I seek is to address the failure points which occurred in my case, so that others are protected from the harm and trauma that I now live with."
She was walking her dog in Templeton Woods, close to her Clatto home, when McIntosh launched his unprovoked attack.
The convicted killer – who murdered Anne at Dundee Law in 2001 aged 15 – bludgeoned Linda with a dumbbell, only stopping when he was disturbed by other dog walkers.
He was serving the end of his sentence – life with a minimum of 15 years – in low-security Castle Huntly on the outskirts of Dundee, with preparations for parole allowing him to make home visits to see his mother,
But Linda says the issue is much bigger than her own attack.
She wants to see tighter measures to ensure high-risk offenders are better monitored to stop anyone else going through what happened to her.
The grandmother also wants the authorities who allowed McIntosh's first release to be held accountable for the "grave errors" which led to her attack.
Linda hopes the campaign will help bring her closure and "piece her life back together".
She said: "I knew I had to face my fears to launch it and show others that I am getting stronger and up for a fight."
In October 207, McIntosh pled guilty to attempted murder and the following year was handed a lifelong restriction order, with a minimum of five years in prison before he could be considered for parole.
Judge Lord Arthurson said McIntosh displayed psychopathic tendencies, adding: "Whenever you are released – if indeed you are ever released at all – is a matter for the parole board."
What happened next?
Humza Yousaf, then justice secretary, apologised to Linda in 2020 and the Multi Agency Public Protection Arrangements (MAPPA) group tasked with monitoring McIntosh have also said sorry.
The SPS (Scottish Prison Service) has apologised in statements to the media but Linda says nobody from the agency has ever expressed regret, or admitted their mistakes, directly to her.
A review into what went wrong was released in 2019.
It found a psychological assessment of McIntosh carried out in 2012 indicated a high risk of re-offending.
However, the report added his attack on Linda "could not have been predicted".
Recommendations in relation to risk assessments for high-risk offenders were implemented but she says they didn't go far enough.
With the support of her solicitor Aamer Anwar, Linda continues to fight for more answers and a direct apology from the SPS.
If we want Scotland to be a place where people feel safe from serious harm, we need to expose these failure points and fix them.
Linda said: "I am still waiting for a full apology from SPS, who I hold responsible for allowing McIntosh out to attack me.
"I've been asking for answers for five years – I have never had one reasonable answer in all that time. I think that's shocking.
"I sent 20 questions to SPS and I am not at all happy with any of the responses given – they don't address any of the questions we have asked."
Linda added: "Mistakes were made. Why can't they just admit that and learn?
"They need to hold their hands up – someone needs to be accountable.
"On uncovering the grave errors which led to my attempted murder, I realise that we need more robust and consistent multi-agency protection, with proportionate levels of public safeguards against high risk offenders.
"I want to know why McIntosh wasn't wearing a tag, why he wasn't more robustly monitored and why a prisoner considered to be dangerous was allowed out into the community where he struck again."
She revealed the Tayside MAPPA group – which includes Police Scotland, SPS and local authorities – has yet to provide tangible explanations for their failings and how they were later addressed.
Linda said: "Unfortunately in my case, the MAPPA members failed to fulfil their responsibilities and more damaging is that, to date, they are avoiding any clear explanation of what the failures were and how they are being addressed.
"If we want Scotland to be a place where people feel safe from serious harm, we need to expose these failure points and fix them."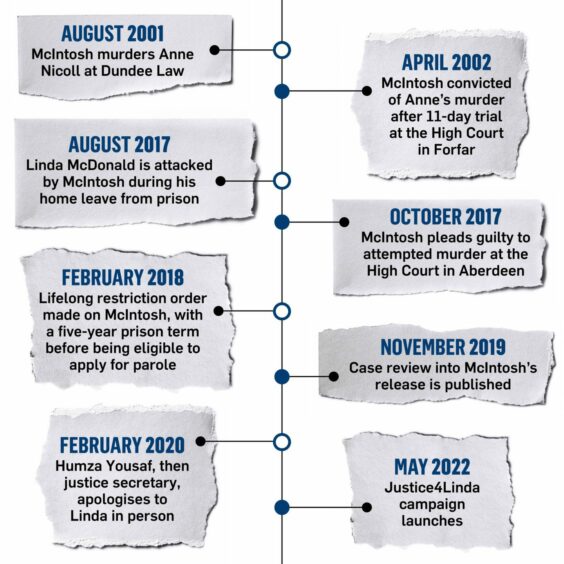 Mr Anwar, who has represented Linda for a number of years, claims the previous review was a "face-saving exercise".
He said: "The way the authorities are treating Linda is patronising, insulting and compounding her grief.
"None of the promises they have made have been delivered.
"They need to give Linda the answers she is asking for."
'Hiding behind data protection'
He added: "This is not about revenge – this individual had serious problems and Linda wants to make sure no one else has to go through what she did.
"The questions Linda has asked have not been answered.
"The Scottish Prison Service has taken part in a face-saving exercise.
"No-one seems to know what the answers to Linda's questions are – if they do they are hiding behind data protection by not giving the answers."
A spokesperson for SPS insisted they will continue to work with Linda.
They said: "As we have previously made clear, we are profoundly sorry for what happened to Mrs McDonald.
"We are fully aware of the life-changing consequences, for her and her family, as a result of this dreadful act.
"We have engaged with Mrs McDonald and will continue to do so."
For more information on Linda's campaign, visit justice4linda.org
VIDEO: Dundee gran Linda McDonald on forgiveness and returning to Templeton Woods five years after Robbie McIntosh left her for dead