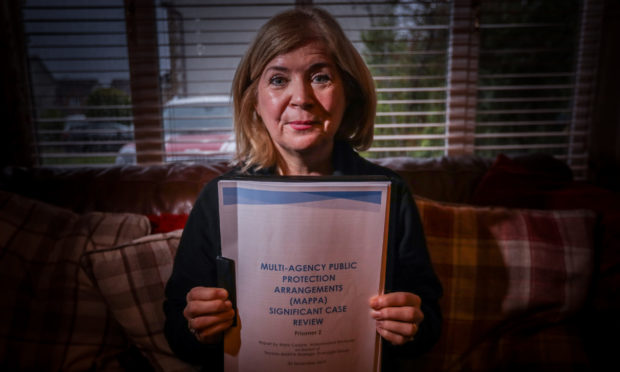 A Dundee grandmother viciously attacked by Law killer Robbie McIntosh will demand "real answers" from the justice minister about what is being done to prevent her ordeal being repeated.
Linda McDonald will meet Humza Yousaf MSP at Holyrood on Wednesday, three months after the release of a review into the case, which she believes failed to establish "accountability".
Convicted murderer McIntosh battered Linda with a dumbbell at Templeton Woods while on home leave from prison in 2017.
He had previously been jailed for life with a minimum sentence of 15 years in 2002 for the brutal murder of dog walker Anne Nicoll on the Dundee Law.
In November a damning case review revealed that prison officials feared McIntosh was "playing the system" to be released but the final conclusion was that the attack on Linda could not have been predicted.
The report made a number of recommendations about risk assessments of prisoners.
Linda's solicitor Aamer Anwar said: "Linda wants to see real change take place rather than these recommendations gathering dust.
"She wants to get real answers rather than redacted reports. She believes there hasn't been accountability.
"It's all very well having reviews and talking about sorrow for what happened but nobody has actually accepted responsibility and that's a recipe for something like this to happen again.
'They can't let this happen again': Templeton Woods survivor reacts to damning report into Robbie McIntosh's release
"The hope is that Humza Yuusaf will have some answers and if he doesn't, that he would be able to get some answers."
Linda suffered the random attack as she walked her dog, sustaining multiple skull fractures.
McIntosh only stopped when other dog walkers disturbed him while Linda pretended to be dead in order to protect herself.
McIntosh pled guilty to assault to severe injury, permanent disfigurement, permanent impairment and danger to life and attempted murder, and was sentenced to an order of lifelong restriction with a punishment part of five years.
Mr Anwar added: "It was only a matter of luck that Linda survived the attack.
"The physical injuries may not be visible anymore but she will carry the trauma all her life.
"The review said this attack could not have been predicted. Linda and those close to her can't believe that.
"McIntosh was described in court as having 'psychopathic traits' yet prison bosses gave him a week's home leave to help prepare him for release.
"Now the question mark still remains about how many of the recommendations have been carried out and how many have been translated right across Scotland."
IN FULL: The 10 recommendations accepted by the Tayside MAPPA (Multi-Agency Protection Arrangements) Strategic Oversight Group
1 – The Scottish Prison Service should review the information provided to Scottish Ministers when submitting reports that recommend First Grants of Temporary Release to ensure that the report gives a balanced reflection of a prisoner's period of imprisonment and the assessed risk.
2 – The Scottish Prison Service should review what information is available and considered during the Risk Management Team meetings when considering a prisoner's progression. The full LS/CMI (a risk management system)  risk assessment, together with any other risk assessments carried out, should be considered in full.
3 – At the point where a prisoner is considered for progression to the Open Estate, the chair of the Risk Management Team within the Scottish Prison Service must ensure that the LS/CMI and any Risk of Serious Harm (RoSH) assessment have been fully completed, endorsed by a Senior Prison Based Social Worker and that all documentation is forwarded to the Open Estate for their consideration within seven days before the date of the proposed transfer.
4 – The Scottish Government should work with partners to undertake a review of National MAPPA guidance and improve consistency of application across the country.
Guidance should specifically lay out how the Home Leave and release decision making processes; Scottish Prison Service Risk Management Team meetings; community based multi-agency meetings; and MAPPA arrangements interfaces with MAPPA risk management arrangements in practice.
5 – The Tayside MAPPA Strategic Oversight Group should ensure that concise and accurate pre read material for MAPPA and multi-agency meetings is sent to attendees in advance of all meetings. This should include formal meeting invitations for all attendees. Meeting minutes should be concise, accurate, ensure tasks are detailed and clear in terms of ownership with updates and outcomes captured. Minutes should clearly reflect the rationale for decision making.
6 – The Scottish Prison Service should develop how risk is assessed and mitigated within Risk Management Team meetings. Risk requires to be the main consideration and decisions made should serve to mitigate and manage risk rather, than trigger progression.
7 – The National MAPPA Strategic Oversight Group should ensure that ViSOR (a dangerous persons database) Standard documents are adhered to by all partner agencies.
8 – Police Scotland should review and improve lines of
communication between Offender Management Units and Local Policing in cases involving MAPPA, particularly in cases where there are crossovers of ownership and accountability.
9 – The Scottish Government and Scottish Prison Service should consider what technological options are available to assist with the management and monitoring of high risk prisoners who are being granted Home Leave – specifically evaluating the viability of GPS tagging solutions.
10 – The Scottish Prison Service should review the start to end
process of how information regarding individual prisoners' unsupervised community access is consistently reported to and received by Police Scotland and Criminal Justice Social Work in a way that facilitates the identification and management of individuals who may pose a risk in the community.