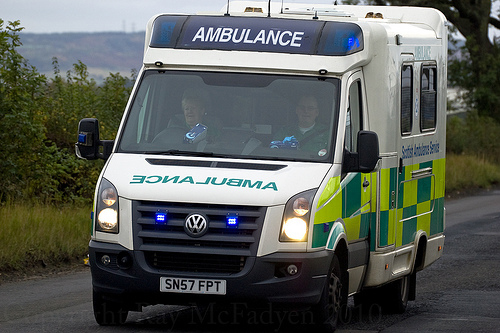 More than 150 instances of life-saving staff being assaulted across Tayside and Fife have been recorded during the past five years.
Scottish Ambulance Service staff have been spat at, punched, kicked and threatened with knives and bottles across the region.
Since 2012, attempts have been made to kill ambulance staff in Tayside and Fife on at least three occasions.
The most serious attacks took place in Montrose, Kirkcaldy and Cupar.
Indirect assaults and clinical assaults, such as staff being struck by patients suffering fits, are also recorded.
In all, 154 assaults, physical and verbal, were committed on ambulance workers.
A Scottish Ambulance Service spokesperson said its staff across the country are abused on an almost daily basis.
The spokesperson said: "Assaults of any kind on ambulance staff are totally unacceptable. Our frontline teams deserve respect for the difficult and challenging job they do, delivering care 24/7, often in extreme situations.
"The safety of ambulance staff is paramount and the service has a number of measures in place to protect staff.
"All crews are given training in management of aggression and how to undertake a full risk assessment on arrival at scene to establish if there is any potential danger. If any ambulance crews feel that their safety may be compromised, they are instructed to hold nearby the scene and await support from the police, or additional ambulance teams.
"As a further protective measure, addresses where there have been previous incidents of violence or threatening behaviour towards staff are flagged in our control rooms.
"Ambulance staff are subjected to verbal and physical abuse from the public on an almost daily basis while trying to help people. Assaults or threatening behaviour are reported to the police."
North East MSP Bill Bowman described the figures as "grotesque".
He said: "Committing a premeditated assault on a paramedic is a grotesque crime, one which rightly disgusts the majority of people in our society.
"Ambulance staff and those in our emergency services are the best among us and deserve to conduct their life-saving work in safety.
"Accidental injuries can occur because medics put their own safety on the line to protect fitting or confused patients.
"But some of the attacks reported, such as an attempt to kill a member of staff in Montrose, should be treated as the most despicable of acts.
"It is vital our ambulance service is doing all it can to protect our front-line personnel."
A Scottish Government spokesperson said: "Attacks against NHS staff are despicable and the perpetrators must be dealt with in the strongest possible terms. We continue to encourage all NHS organisations to support criminal proceedings against anyone who assaults a health worker.
"The Scottish Ambulance Service take preventative measures to protect their staff, including flagging up addresses where ambulance workers could be at risk, which means dispatchers can request additional police support to a call from one of these addresses if necessary."