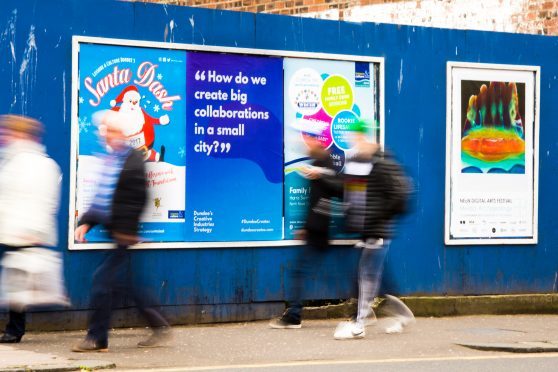 Finding new ways to utilise empty  properties and ensuring graduates remain in Dundee could be key to boosting the city's creative sector.
The first Creative Industries Strategy was launched at DCA on Tuesday night and unveiled a series of strategies to develop Dundee's creative industries over the next five years.
The key recommendations within Dundee's Creative Industries Strategy include broadening routes into the creative industries from school, college and university to stop people leaving the city to set up elsewhere.
It states: "A significant challenge for Dundee is encouraging its
students from the local schools, universities and college to have the confidence to base their professional practice in Dundee upon completing their studies."
The strategy also wants to see greater collaboration with other sectors such as health care and tourism to create greater impacts.
Its third key recommendation is to find innovative ways to share "underused" spaces and resources across Dundee.
The strategy document highlights places such as The Fleet Collective in Panmure Street and The Tin Roof Arts Collective in Matthew Court as examples of where previously vacant buildings have been brought back to life by the creative sector.
The report states: "The creative sector has made great progress in bringing to life redundant spaces in the city, but needs real effective partnerships with the public and private sector to continue this work.
"Fleet Collective is an important example in the city of a collaborative space initiated by a creative collective with a landlord which is working well – case studies like Fleet should be amplified to increase the understanding of the value of these partnerships for both creative communities and property developers."
The creative industries are one of the fastest growing industry sectors in the UK.
Posters featuring quotes from people who helped develop the strategy have been put up in 12 locations across Dundee city centre.
Gillian Easson, director of Creative Dundee, said: "The creative industries are critical to Dundee increasingly being recognised as a global creative city, particularly as a UNESCO City of Design and as a city bidding to be European Capital of Culture 2023.
"Dundee's Creative Industries Strategy is important to ensuring that we all work together to ensure our creative industries sector underpins our vibrant city and ultimately contributes to creating a healthy and positive place for everyone to live."
John Kampfner, chief executive of the Creative Industries Federation said: "I'm excited to play a part in this striking initiative.
"The creative industries are worth £87bn to the British economy and I'm delighted that Dundee's taking a lead in using them to help define its economic, cultural and social future.
"Later in the week we'll be releasing the first-ever analysis of post-Brexit employment across the creative industries and Dundee's Creative Industries Strategy is absolutely right to identify harnessing young talent as one of its key goals."