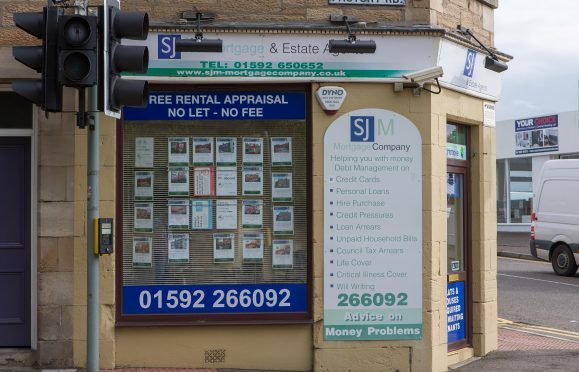 Dundee remains by far the cheapest out of Scotland's four major cities to rent privately, a new report has revealed.
The annual report by property advertising site, Citylets, showed that with an average of £552, renting in the city is £190 less on average per month than the next cheapest of Scotland's four biggest cities, Glasgow, which averages £742.
Dundee's average is just over half that of Edinburgh, which as Scotland's most expensive area to rent, saw its market grow by around 3% to hit a staggering £1,016.
The report covers changes in the Private Rented Sector (PRS) from December 2016 to December 2017, during which rents in Dundee fell dramatically by 7.5% overall after climbing by almost 5% the year before.
A one-bedroom now stands at £395, a two-bedroom £563, a three-bedroom £716, and a four-bedroom £913.
Renting in the City of Discovery costs £182 below the average in Scotland.
Robert Murray of Tayside-based Lickley Proctor Lettings said he could only speculate as to the reasons for the drop.
He said: "Although rental values have been sustained on the properties we have let, we have noted there has been less interest in the viewing of available properties over the last quarter of 2017.
"Whether this is due to the new tenancy regime, economic factors, simply the time of year or a combination of factors — we will have to wait and see."
Managing director of Citylets, Thomas Ashdown added: "Rents in Glasgow are higher than the national average for the first time which is a significant event for the private rental sector in Scotland's largest city.
"Whether this continues or not remains to be seen and whilst growth in Edinburgh at some level is almost guaranteed, much will depend on the drag exerted on the Scottish average by markets elsewhere such as Aberdeen."
Meanwhile, Your Move's annual House Price Index has revealed Dundee and Angus are two of only five areas in Scotland to have seen a drop in average property prices in the last year with a 0.4% and 1.1% fall respectively.
The average price of a home is £139,107 in Dundee, while in Angus, the average is £153,436.
The other areas to see a drop are Clackmannanshire (down 8.3% to £128,518), Argyll and Bute (down 3.8% to £155,992), and Aberdeenshire (down 2.4% to £206,711).
The average in Scotland is £175,882 with the cheapest being Na h-Eileanan Siar at £107,657 and the most expensive being Edinburgh at £251,895.