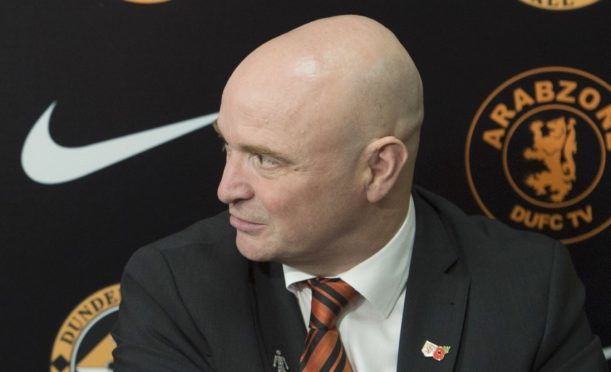 A student teacher accused of assaulting ex-Dundee United chairman Stephen Thompson in the aftermath of a heated Dundee derby earlier this season has had the charges against him dropped.
Christopher Brash was accused of pushing Mr Thompson to the ground in a hospitality area at Dens Park last August.
It is understood that at the time Mr Thompson believed Mr Brash had been invading his privacy by filming him on his mobile phone.
Brash's trial was due to start today but prosecutors said there is not enough evidence to proceed against the 24-year-old, who denied the charge.
Mr Brash was accused of repeatedly pushing Mr Thompson on the body and causing him to fall to the floor in a hospitality area at Dens Park on August 9 2017.
Mr Thompson was uninjured in the incident.
A spokesperson for the Crown Office and Procurator Fiscal Service said: "After careful consideration of the facts and circumstances of the case, including the available admissible evidence, the procurator fiscal decided that there should be no proceedings taken at this time.
"The Crown reserves the right to proceed in the future should further evidence become available."
"Criminal proceedings … totally unnecessary"
Brash's solicitor advocate Jim Laverty said his client was delighted that the prosecution "have finally decided to take no further action against him for the alleged assault."
However he criticised the police investigation into the incident which, he said, was a "simple misunderstanding."
He said: "Mr Thompson's robust act when he thought Mr Brash was breaching his privacy by secretly filming him was dealt lawfully by Mr Brash and this finally appears to be accepted.
"Had Police Service of Scotland competently investigated the events of that night no criminal proceedings would ever have been taken.
"Had our client's mobile phone been interrogated by police Mr Thomson's mistaken belief that Mr Brash was filming him would have been immediately established as wrong.
"Instead, Mr Brash has had seven months of a criminal allegation against him over a simple misunderstanding, an allegation with serious consequences for his future career.
"Mr Brash is certain that had the misunderstanding been clarified on the 9th August these criminal proceedings would have been totally unnecessary."