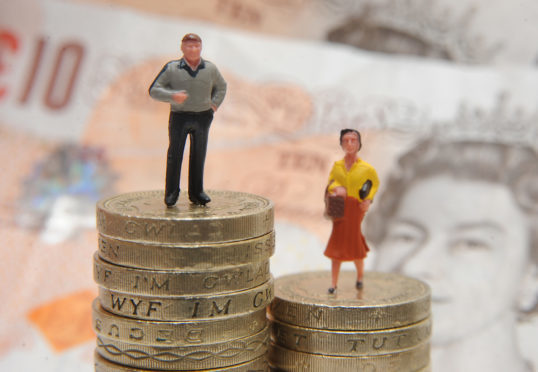 More than 70% of large firms in Tayside and Fife pay men more than women.
Under rules introduced last year, UK firms with 250 or more employees were required to report the difference between the average pay of male and female workers by Wednesday's midnight deadline.
Of the 56 firms from Tayside and Fife who reported, 40 pay men more than women, five companies pay women more and 11 said there was no pay gap.
The average median pay gap – the best way of comparing typical pay – for firms in Dundee was 13.5%, 9.3% in Fife, 7.8% in Perth and Kinross and 7.3% in Angus.
The Scottish average was 9.5% and the UK average 9.7%.
In Tayside and Fife, Dundee-based solicitors Thorntons Law LLP had the highest median pay gap of 37.2%, followed by Perth energy company Scottish Hydro Electric Transmission (36.1%) and Fife firms Vets Now (35%) and Velux Ltd (34%).
Helen Archibald, chief operating officer of Thorntons, said the firm had expanded through mergers and acquisitions as well as organic growth in recent years and had "worked hard to harmonise, as much as possible, terms and conditions across the firm, whilst still being mindful of market forces."
She added: "Considerable steps forward have already been taken. We're not quite there yet, but we remain committed to completing our journey."
Perth energy firm SSE was the largest firm in Tayside and Fife to report, with more than 20,000 employees.
Under the guidelines, four SSE companies, including Scottish Hydro Electric Transmission, reported separately as well as the overall group, which had a pay gap of 19.3%.
John Stewart, SSE's director of human resources, said the firm started recording and acting on its gender pay gap two years ago.
He said: "Genuine transformation for SSE, and across the UK's labour market, will require meaningful societal changes as well as improvements at organisational-level.
"SSE is committed to being a leader for driving change in both of these areas."
Samantha Prentice, people director at Dunfermline-based Vets Now, said the firm "strongly advocated equality in all areas of the business and for our staff".
She added: "We are confident that women and men are paid equally when working in equivalent/comparable roles and that gender plays no part in our salary decision making.
"Our reported gender pay gap reflects an over-representation of women in lower paid positions such as animal care assistants, receptionists and clinic administrators."
She added that 90% of directors on their operating board were women.
Pedro Poole, managing director of windows firm Velux, said: "Equal pay for equal work is embedded at every level within Velux. Our gender pay gap has reduced by 2.5% since 2016 and is something we take very seriously.
"We have an active plan to address the gender pay gap through a series of initiatives."
At the other end of the scale, Fife Cultural Trust had the highest negative pay gap in the figures, meaning it pays women more than men, by an average of 12.6%.
The other Tayside firms that pay women more were Donaldson Timber Engineering (10.3%), Highland Spring (9.6%), Crieff Hydro (1.2%) and The Old Course Ltd (1%).
Heather Stuart, chief executive of Fife Cultural Trust, said: "The range of service we offer historically has tended to attract a far higher ratio of female to male candidates for most positions. There are many women who hold senior positions."
How the figure is calculated
Firms with more than 250 employees were required to file a report on their gender pay by the deadline of midnight on Wednesday.
It uses pay statistics from April 2017 and bonus pay for the 12 months up to April 4 2017.
We compared firms using the median figure, or the middle of the distribution, as a measure of average pay.
At a given employer, half of the staff earn more than the median salary and half earn less.
Although local authorities in Tayside and Fife are some of the biggest employers, they are exempt from making a submission.
The Scottish Government has already said it will require all public authorities with more than 20 employees to publish their pay gap every two years and an equal pay statement every four years.
DC Thomson and Co Ltd
The Courier publisher DC Thomson has a gender pay gap of 15.7%.
At a group level, which includes other businesses owned by the firm, the gender pay gap was 15%.
DC Thomson director David Thomson said: "Our recruitment strategy is to appoint the best person for the role, regardless of gender.
"We believe that all of our employees should be treated equally with the fairness and integrity that they deserve and, as a family business, we take the commitment to our people extremely seriously."