Taxpayer-funded council workers have again been forced to clean up Broughty Ferry's beach after litter louts left the area strewn with rubbish.
The warm and sunny weather  over the past week attracted large numbers of sunbathers to the beach and grassy slopes outside Broughty Ferry castle.
However, for the second day running instead of taking away their rubbish some left the area covered in food packaging, alcohol cans and bottles, disposable barbecues, towels and plastic bags.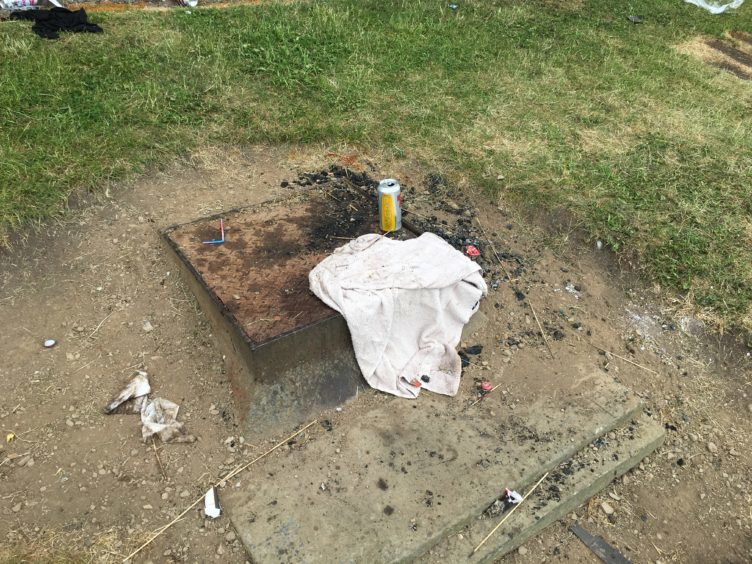 Council workers cleaned up the area on Tuesday morning.
Some residents have claimed there are not enough bins in the vicinity – however,  Kevin Cordell, convener of Dundee City Council's neighbourhood services committee, said the provision was "adequate".
Posting on the Old Broughty Ferry Facebook page, resident June Dickson said: "I know that over the past few days there have been many posts about litter, dirty streets and the state of the beach.
"If the latest mess at castle was left by youngsters 'enjoying themselves' of an evening why are they not asked to move on?
IN PHOTOS: This is the disgusting mess left behind by some after a sunny day at Broughty Ferry beach
"I am sticking my neck out and saying there are definitely not enough bins , mind you they may not be used.
"Why don't the council put the large portable bins at the car park? I really feel it's time to step up to the plate and take some kind of action."
Mr Cordell said there was  "absolutely no excuse" for leaving one of the most attractive outdoor areas of the city in such a state.
He added: "We always encourage people to get out and enjoy the good weather at the beach and surrounding area, but to do so responsibly and with some thought for other users and locals.
"The litter that was left strewn around the beach and castle area resulted in council staff having to make a special journey to clean it up, when it could so easily have just been put in the bin by the people who left it there.
"There is adequate provision of well signed litter bins in the area that are emptied often and hopefully when we get another hot sunny day and visitors come to the Ferry they will use them."