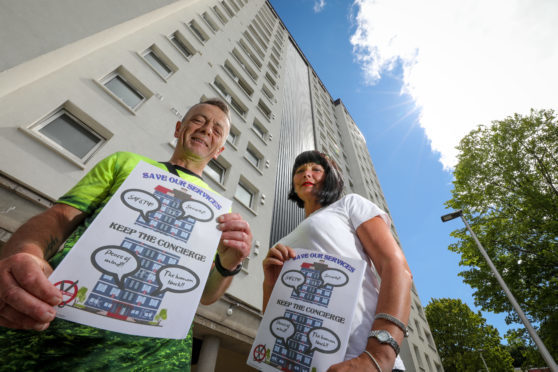 Campaigners in Dundee are fighting against a council decision to cut concierge services in city multis and replace them with CCTV.
Letters, outlining plans for a consultation on the proposal, have gone out to tower block resident in recent weeks.
The Village of Lochee Community Partnership is calling on Dundee City Council to reverse its 2015 decision to press ahead with the shake-up.
The group says the workers provide much more than security to housing blocks and their role is more important than ever in the wake of the Grenfell Tower tragedy in London.
Jayne Kelly, co-chairwoman of the partnership, said the caretakers were a vital part of the community.
"They have put out fires and alerted people when an elderly person hasn't been seen for a few days," she said. "They don't just offer security.
"Multis are communities and after what happened a year ago in Grenfell, we know that communities like this can suffer when cuts are made.
"I suspect the council are doing this as a cost-cutting exercise, but if they say it's not then I would be interested to hear how they think a CCTV system would be safer.
"We've spoken to many residents of multis already and they are overwhelmingly against the idea of cutting this service."
Jayne recalled an incident in Dundee two weeks ago when armed police were called to one of the multi-storey blocks following reports that someone was carrying a knife.
"After that, the concierge made it clear to everyone that what had happened was over and that it was safe.
"You get a lot of vulnerable people in properties like that so these people can offer a lot.
"We don't want the council to think we are at war with them, but if they were doing their jobs properly then we wouldn't need to be doing this."
Members of the group were out at the city's multis in Lochee and Hilltown yesterday, distributing flyers to make residents aware of the situation.
A series of public meetings are being planned for August, to which council officials will be invited.
A Dundee City Council spokesman said: "Approval to consult with relevant stakeholders on the review of caretaker services was agreed by the council's housing committee in June 2015.
"That consultation, which includes trade unions, employees and tenants, is ongoing."