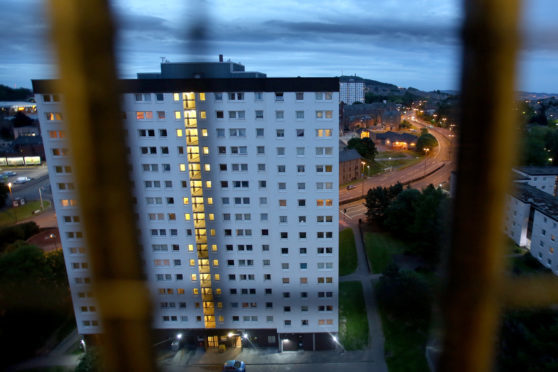 A former drug user who exposed himself and carried out a sexual act in the corridors of a Dundee multi has been given a final chance to avoid jail.
Allan May is to be evicted from his home in Elders Court after admitting a charge of public indecency on the block's 10th floor on December 7.
He also admitted that on October 29, he walked about the main communal entrance of the building with the lower part of his body completely exposed.
The offences were committed while the 52-year-old was on bail. The order had been granted a little more than fortnight previously, on October 10.
His solicitor told the court May had issues with illicit drug-taking, which he was attempting to tackle.
He said his client's health had deteriorated "dramatically" as a result of historic drug use, but that the "most he does now" is smoke cannabis.
Sheriff John Rafferty lamented that May was "not suitable" for supervision which would help him remain free from jail, and said "anything other than custody" was blocked to him.
However, he said he would allow the accused time to prove he could be of good behaviour in order to be kept out of jail.
Addressing May in the dock, Sheriff Rafferty said: "I'm not discounting a prison sentence, but I'm going to defer sentencing as I want to find out if it's only a single episode of this type of conduct.
"I intend to keep an eye on your conduct for six months or so.
"I'm going to defer sentence for two months and ask the Crown for reports, then further defer sentence if you have been of good behaviour."
May was bailed to the Lily Walker homeless centre, where he will live after his upcoming eviction from Elder's Court.
The court heard that the decision to evict him was taken because of a number of matters.
As well as the indecency offences which ultimately led to hi appearance in court, he was facing rent arrears.
May is next due in court on September 26 when the sheriff will consider his interim conduct and decide whether his overall behaviour merits a jail term.