A pair of inebriated Dundee men were caught on camera attempting to ride a bicycle believed to have been stolen from a young girl.
A bike belonging to 10-year-old Shannon Pisano was stolen from her Lochee home at the start of June with the young girl left "devastated".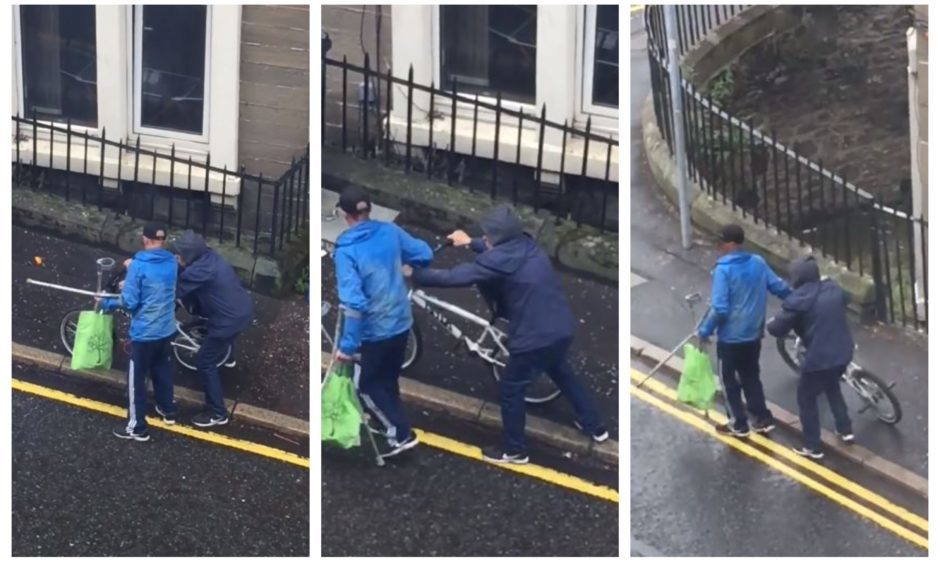 The bike, worth around £185, had been bought as a Christmas present but was stolen after thieves accessed the block's secure entrance.
The family had given up home of finding Shannon's much-loved BMX after initially appealing for help in tracking it down on Facebay Dundee.
She asked anyone who may have seen the bike for sale online to get in touch with her.
A video posted this week, however, showed two middle-aged men struggling with an identical child's bike while walking up Constitution Road on Tuesday August 14 at around midday.
Upon seeing the video, Shannon's mum Nicci Pisano said she was sure the bike was her daughter's.
She added she had reported it to police with the force promising to check CCTV of the street the day the video was taken. She said the initial theft had badly affected Shannon.
Ms Pisano said: "They gained access to our secure entry block and stole it. She was heartbroken because hers was the only one stolen.
"Just can't believe someone would steal my 10-year-old's bike. She was devastated.
"She would be over the moon if she got it back. She was out on her bike every night since she got it.
"I don't really care what happens to the two men, I just want my girl's bike back."
Nicci added that, after contacting police, the force told her they would visit her home to take another statement before chasing the suspected culprits.
The one-minute-long video clip, taken by Lyn McGrattan from a second-floor window, shows one man struggling to make it up the steep road before being helped by his friend.
The pair eventually make it 100 yards further up the street before disappearing from view.
The clip has been shared hundreds of times online with more than 200 hundred comments.
Police Scotland said they could find no record of a crime being reported.