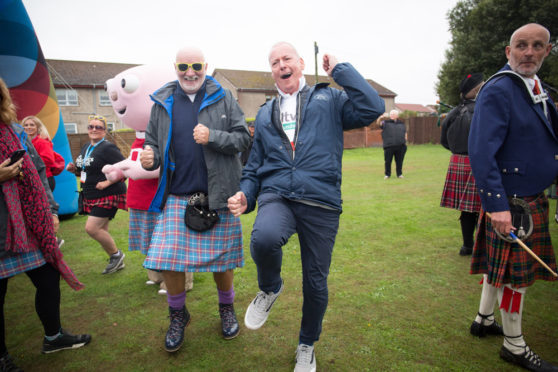 Kindhearted walkers raised more than £500,000 for local charities by trekking through Tayside and Fife.
This year's Kiltwalk started in St Andrews before walking to Dundee, then headed east to finish in Monifieth – a 25-mile route.
Philanthropist Sir Tom Hunter and Sky Sports presented Jim White waved off the walkers who were doing their bit for more than 350 charities.
The challenge was split into three distances – Mighty Stride, Big Stroll and Wee Wander – to suit people of all ages and abilities.
Leading out Dundee's Mighty Stride was father and son Jock McKay and Kai Anderson. Kai, 14, was born with hypoplastic left heart syndrome, a rare condition where part of his heart is underdeveloped, and has a chronic lung condition.
He was pushed the full 25 miles in his wheelchair by step-father Jock to raise case for Glasgow Children's Hospital Charity, where he undergoes treatment.
Kai recently lost his mother to an aggressive form of cancer, so also chose to complete the journey in her honour.
Also leading the Mighty Stride was Brydon Greenhill and Louise Murray, walking for FEAT Stop Sepsis Now. Brydon and Louise lost their daughter and sister, Laura, suddenly to sepsis two years ago.
Laura developed the disease after getting a small cut on her foot that wouldn't heal. After receiving treatment in hospital for a number of weeks, she sadly passed away.
The Big Stroll was led by Hayley Ramsay, walking for The Scottish Burned Children's Club. Hayley's step-sister passed away when she was three years old, after an accident where she sustained severe burns.
Toby Etheridge, 13, led the Wee Wander, with mother Alison. They were raising money for his own charity, Toby's Magical Journey.
Toby was diagnosed with leukaemia when he was nine years old and after years of raising money for various cancer charities, decided to start his own.
Paul Clooney, Kiltwalk CEO, said: "We are overwhelmed by the turnout with walker number increasing by a third on last year. With The Hunter Foundation's 40% top-up that means so many more great causes in this area will benefit from the blood, sweat and tears of our walkers.
"It's been a special day and the stories of each and every one of our heroes is what will love long in the memory. Thanks to them for making such a difference."
All Kiltwalkers were fed, watered and entertained on the route at pit stops put on by various charities, including Calums Cabin and Glasgow Children's Hospital Charity – fuelling the walkers with fresh fruit, chocolate, crisps, water and soup.
The last of this year's Kiltwalks takes place in Edinburgh on September 16.